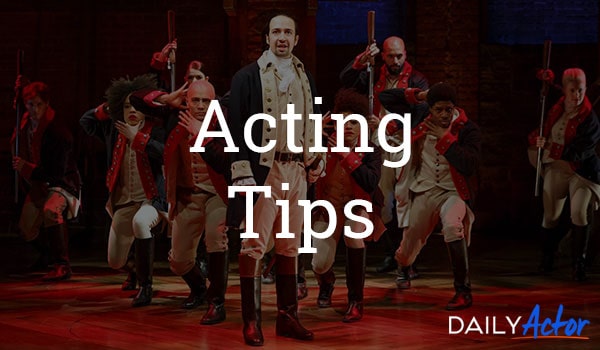 Need helping preparing for an audition? Developing and creating a character? Memorizing lines? We've got you covered!
Throughout the years, we've posted hundreds of acting tips from some of the best professional actors in theatre, TV, and film. Advice, examples, techniques, and how-to's that can benefit performers of all levels, from aspiring to working actors.
On this page, you can access all that info and more. With over 6,500 published articles, there's a lot of material to choose from.
And if you don't have time to read that much content right at the moment (and who can blame you?), we've put together some quick snippets of tips below.
Audition Tips: Auditions are one of the most stressful things an actor has to deal with. Here's what top actors, casting directors, and educators have to say about auditioning the right way.
"I've been a very bad auditioner for a lot of years, and the reason why was that my fear would overtake me, and I would think that there was a certain right way to do it. Now, that I've developed a little bit of confidence… if I have a certain way that I want to do it, if I want to do scene three first, and then go back and do scene one, that'll help me. I'll do that. If I want the reader to be seated, I'll ask the reader to be seated." – David Harbour
"The biggest deal-breaker is not being prepared. You have to have a book [of songs you are prepared to sing at a moment's notice]." – Casting Director Bernie Telsey
"You walk in the room and you focus on how you would do it, you know what I mean? All I can do is go in and give it what I have." – Marc Kudisch
"I think that an actor will do fine as long as they make a choice and they are coming in and bringing their choice into the room." – Casting Director Heidi Levitt
"Sing things that you feel really solid about, that you've rehearsed. Also just remember your individuality. When you walk in the room, bring who you are, and not what you think they want. What they want is you." – Sutton Foster
"I'm not a fan of people who walk in 'in character' or who rush the table to shake hands. The actor should take his cue from the person who greets him." – Casting Director Tara Rubin
Tips for Creating Characters: Every actor has a different way of developing and getting in character. Here are some character tips and tricks from prominent actors.
"I always say I don't know who a character is until I know what shoes they're wearing, until I figure out the walk, until I figure out how they stand." – Kerry Washington
"I think I'm better when I don't do that method stuff, and I get good sleep, and my boyfriend doesn't hate my guts, and I can have a nice weekend or a nice evening and then go to work and really go to the dark place, switch it on and do it." – Charlize Theron
"The goal of an actor is not for your character to be liked. The goal is for your character to be understood." – Sterling K. Brown
"You're not interpreting T.S. Eliot as you understand him. You're inhabiting him. You're imagining him. It's not the T.S. Eliot. It's your T.S. Eliot." – Willem Dafoe
"My job is not to make any judgement on a character, but to look as clearly as I can at who they are, what they're doing, and why they're doing it." – Ben Whishaw
"You gather all of the information and look at it all, and panic, and then you start to slowly build this character." – Josh Brolin
"I get a [blank]book for every character that I do, and start to write out what some of his traits might be, and what some of his idiosyncrasies might be, and what his favorite colors might be." – Giancarlo Esposito
"I create a workbook by which I go through and write down everything every other character says about my character, what I say about myself and others." – Ruth Wilson
"Start with yourself and see what kind of lines up with the character. You might magnify those aspects of yourself that work with the character, or keep those parts of you that don't match to the curve." – Jeff Bridges
"So there won't be any anachronisms, I don't come out of the time period; I stay in it. I listen to music of the time and I only deal with family and friends that are on the film." – Octavia Spencer
"I can't just sort of float onto set with a whole bunch of mannerisms and hope it sort of comes off. You have to ground it in some sort of reality, otherwise you get found out as things sort of evolve." – Benedict Cumberbatch
"You try to grasp the heart and goodness of your character, or what they would perceive to be good." – Jeremy Jordan
"A lot of the people with confidence that you play, you try to find their deep insecurity." – Jonah Hill
Tips for Memorizing Lines: Memorizing lines is often a real struggle. Here's a little insight into how a few actors do it.
"I believe in learning the text which is there. Once you know it so well that you can improvise and make it real, it's easy." – Anthony Hopkins
"I record everything in a very flat monotone so that I don't get in my head how I want to do something. And I just listen to it over and over and over. And that helps a lot. And then, I write it out." – Michael Kelly
"Unfortunately for me the only thing that works is hours and hours of saying them over and over and over again." – David Oyelowo
Self-Tape Tips: Self-tapes can show off your best side or your worst side. Here are a few tips for achieving the former.
"I treat them [self-tapes] like actual auditions, so I only give myself a maximum of three takes per scene." – Chelsea Rendon
"[In a self-tape], you shouldn't generally wear white. That sounds like the most ridiculous thing but we've had actors literally disappear on camera. I would say the same for wearing blue with a blue background." – Casting Director Robert Ulrich
Tips for Young Actors: Breaking into the acting business can be tough. Here are some words of wisdom from established actors on how to get your start.
"The only thing that's gonna make you survive and have a career and not make you go do something else is concentrating on doing the best work you possibly can when you're given the opportunity." – Leonardo DiCaprio
"Be patient with yourself. It's not a race. You don't have to get there first." – Michael Emerson
"If you're gonna do it [acting], do it the way that someone approaches being a doctor, or a lawyer, with that level of dedication, that level of commitment, that level of what it takes to focus on daily, disciplined basis." – Josh Lucas
Need more tips? Take a look at our many interviews and articles.
And keep checking back in for new content!
Latest Acting Tips