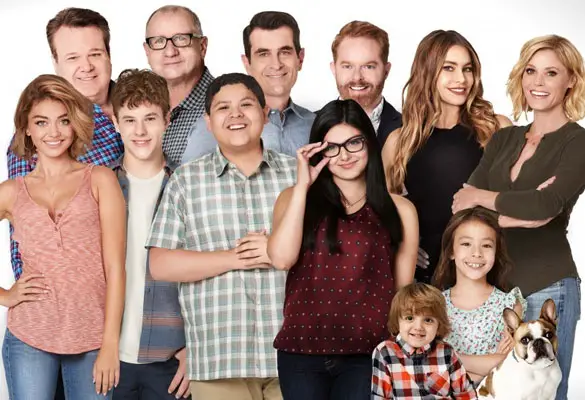 "He had been auditioning for me for 10 years." – Casting Director Jeff Greenberg on Eric Stonestreet
Jeff Greenberg is a casting director who has had say over the casts of dozens of television series over the last three decades. He's virtually seen every face in Hollywood at some point, and has cast the best of the best on his programs. Speaking with Entertainment Weekly, he reflected on the casting of two popular television series that he cast — Modern Family and Frasier.
Greenberg has operated his casting decisions by two primary rules: "I try to find the actor who enhances what's on the page, who not only fulfills the vision of the writer, but brings a dash more — someone who is fresh. And always have a backup plan, always have someone in the wings, just in case."
Of the dozens (hundreds?) of actors who can credit Greenberg for giving them their first big breaks, Greenberg points to one as his proudest achievement — Modern Family star Eric Stonestreet, with whom Greenberg had on his radar for a decade but just couldn't find the right role for him. Greenberg recalls, "He had been auditioning for me for 10 years. I remained a fan, and he was always good. We had a very hard time casting that part, and Eric created the alchemy the role needed by finding the funny and grounding it with his mother's spirit, so that the mix of the masculine and feminine sides of the role were entwined."
Even when Greenberg's instincts are on the money, other factors take the final decision out of his hands — and a great actor or actress just might not be right for a particular part. For example,  when Greenberg was casting Frasier he had a difficult decision when casting Roz. He recalls, "[The producers] said, 'We'll see any type, age, ethnicity,' so I brought them all of these great comic actresses, and we whittled it down. Kelsey [Grammer] came in and read with five or six of them, and our two favorites were Lisa Kudrow and Peri Gilpin. We tested them at NBC, and they chose Lisa. She was great."
Though Kudrow filmed the role in the pilot, Frasier fans know she was quickly replaced by Gilpin. Greenberg continues, "There was so much good confrontation in the scenes at home and a palpable sort of tension. At the radio station, not so much. And they figured out it was because of Lisa's version of Roz. You could see Kelsey [as Frasier]was going to be able to railroad her and do what he wanted. She was sort of spacey, and she was funny. But there was not going to be the conflict there. Plus, her version of Roz interfered a little with Jane Leeves' version of Daphne, which was a little daffy. There were two daffy women, and when you're doing auditions, you don't see it all together; you do them in little puzzle pieces, and then you fit them together."
In a strike of coincidence, the pilot episode's director, James Burrows, managed to identify the problem with the pilot. Greenberg remembers, "Not knowing who else tested for the part, [he]said, 'You know who you need in this part? You need Peri Gilpin.' He had worked with her a few times, and he said, 'You don't f— around with Peri. She holds her ground.' They knew that she could go toe-to-toe with Kelsey, so we made the change, and it was horrible because I'm friends with Lisa. We loved Lisa. She didn't do anything wrong, but I had to make that call to her agent. And then I spoke to her, and she was, of course, the classiest possible person in the world. She said she understood. … It was a dark day."
Of course, things worked out well for Kudrow — the very next year she was cast in Friends.