'Seven Psychopaths' Stars Colin Farrell and Sam Rockwell on the Differences Between Acting in Theater and Film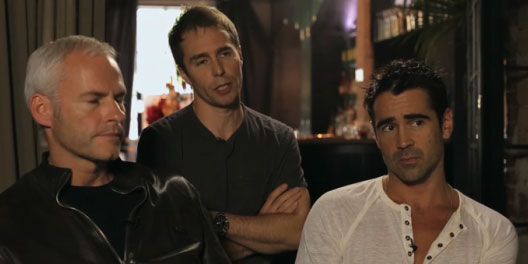 Colin Farrell, Sam Rockwell and Director/Writer Martin McDonagh have a new film coming out called Seven Psychopaths, about a struggling screenwriter (Farrell) who becomes entangled in the LA criminal underworld after his oddball friend (Rockwell) kidnaps a gangster's (Christopher Walken) beloved dog.
The Hollywood Reporter caught up with the trio at TIFF and in this quick video, Farrell and Rockwell talk about the differences between acting in film and theater. "You get to re-invent each evening," says Farrell. 
McDonagh also talks about the differences between writing for theater and film.
Check it out below! 
http://www.dailyactor.com/wp-content/uploads/2016/08/Will-Chase-Something-Rotten.jpg
The Role That Got Away: Will Chase on Returning to 'Something Rotten!'
"I know that I am a poor man's fill-in-the-blank. And I know that there are poor man's Will Chases out there. That's just the nature of the business" - Will Chase
http://www.dailyactor.com/broadway-theater/will-chase-something-rotten-role-that-got-away/
http://www.dailyactor.com/wp-content/uploads/2016/08/Julia-Stiles-Jason-Bourne.jpg
Julia Stiles on the Jason Bourne Series and Growing as an Actress: "There's always room for improvement"
"I like a director that encourages me to be playful. I don't really like being restricted or controlled by a director." - Julia Stiles
http://www.dailyactor.com/film/julia-stiles-growing-as-an-actress/
http://www.dailyactor.com/wp-content/uploads/2016/08/Michael-Kenneth-Williams-The-Night-Of.jpg
Michael Kenneth Williams on How His Roles Impact Him: "That energy's gotta go somewhere"
Since his days of playing Omar on 'The Wire', Williams has learned how to separate himself from his characters.
http://www.dailyactor.com/tv/michael-kenneth-williams-the-night-of/
http://www.dailyactor.com/wp-content/uploads/2016/08/margot-robbie-the-wolf-of-wall-street.jpg
Margot Robbie Believed 'The Wolf of Wall Street' Would Ruin Her Career
Many actors can point to a single role that was a career breakthrough -- but not all of them realize that it's a breakthrough as it's happening.
http://www.dailyactor.com/film/margot-robbie-the-wolf-of-wall-street-ruin-her-career/
http://www.dailyactor.com/wp-content/uploads/2016/08/Jonah-Hill-War-Dogs.jpg
Jonah Hill Talks 'War Dogs' and Getting into Character by Listening to Music
"When I started taking acting classes, it was the first time teachers were like, 'You're good and you should keep doing this.'" - Jonah Hill
http://www.dailyactor.com/film/jonah-hill-war-dogs/