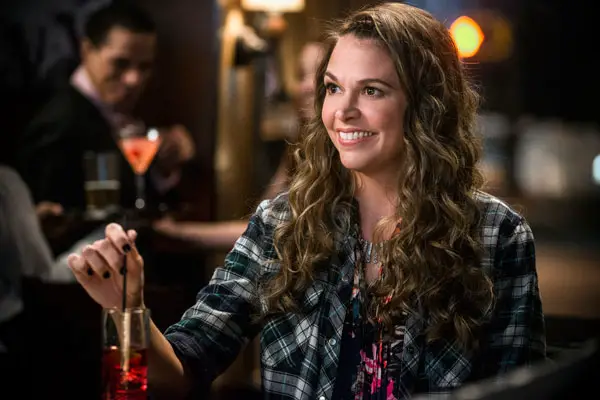 "I never had grand aspirations to be a movie star, to be famous or to be on TV. The theater was what I wanted." – Sutton Foster
Those familiar with Broadway will know the name Sutton Foster very well indeed. Having earned two Tonys and six nominations thus far during her theatrical career, Foster is perhaps still best known for her star turns in Thoroughly Modern Millie and Anything Goes. Foster always seems full of exuberance. Happy, upbeat, talented and a joy to watch, it's hard to believe Foster is 40 years of age.
She's now trading on her youthfulness, turning her attentions away from the stage and on to the small screen instead, starring in sitcom, Younger. Foster plays Liza, a 40 year old empty-nester divorcee, who is returning to the workplace. Having no luck due to her age, Liza re-invents herself as a 26 year old, quickly winning a job as an assistant at a publishing house as well as finding a new roommate in a hip apartment in Brooklyn.
As Foster is fast discovering, being on TV brings a whole new legion of fans who have no clue of the stage career she forged for herself before, and it was also something she never intended to happen.
"It's weird to know that, even being in the theater for as long as I was, more people know me from Bunheads (her previous TV work) and Younger than they do as a theater performer," she tells the NY Times. "Performing onstage, I've been doing that for 20 years," Ms. Foster said. "TV was starting over, learning a whole new thing. It wasn't part of the plan, initially. I never had grand aspirations to be a movie star, to be famous or to be on TV. The theater was what I wanted."
Foster's role in Younger is a tough one to play effectively; though the character is 40-something, the other characters believe her to be 26, but the audience knows the truth. Foster aims to lighten her style, and says that costume always helps her to find a character.
"I just try to bring a lightness to everything, removing the responsibilities, the weight of the world. But if Liza was having a 20s freakout moment, it would be through the eyes of a 40-year-old," she notes.
"I'm used to having costumes transform me. Sometimes I won't even find a character until I put on the costume." As an example, Foster cites her time spent playing Reno Sweeny in Anything Goes. "I remember the first time I put on my entrance outfit," she said. "I'm never going to wear that in real life. It made me feel fabulous: confident, strong and sexy and all these feelings that I don't normally feel when I look at myself in the mirror. For Liza and Younger, it's the same thing."
Via New York Times