Jeff Daniels on 'Newsroom' Criticism and Memorizing Sorkin's Rapid-Pace Dialogue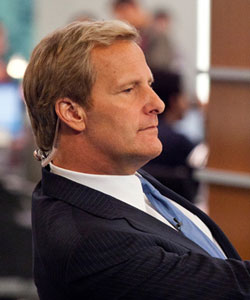 Jeff Daniels, star of the Aaron Sorkin's new HBO drama, The Newsroom, is quick to defend the show against the criticism that has appeared in the media and he thinks that any noise about the show is positive.
In an interview with The Los Angeles Times, Daniels said, "The fact that it's blown up, the fact that people love it and that people hate it—that people are just screaming at Sorkin and getting bent out of shape about this, that and the other thing—it's great.  What we love, believe it or not, is that people are talking about it."
Daniels, who plays newscaster Will McAvoy, said that his biggest challenge on the show was taking on Sorkin's signature rapid-pace dialogue.  "It takes a while," Daniels said.  "I don't have a photographic memory so it's reps.  The short answer is, you memorize it like a grocery list.  You just get the words in there in the right order—don't do anything with them and then you pick up speed.  Once you start to pick up speed, there's a rhythm to them.  Aaron writes rhythmically, there's a musicality to it.  Then it becomes a little easier to go through it…Once you get it in your head, it just kind of rolls.  It flows like a river…a very fast river."
The Newsroom airs Sundays on HBO at 10 p.m.
http://www.dailyactor.com/wp-content/uploads/2015/09/Tom-Hardy-Legend.jpg
Tom Hardy on Playing Twins in 'Legend,' Being Seen as a Tough Guy, and Working with Philip Seymour Hoffman
Hardy speaks about why he challenged himself to play twins, what he thinks of his tough guy image, and working with the late Philip Seymour Hoffman, who directed him on stage.
http://www.dailyactor.com/actors-on-acting/tom-hardy-playing-twins-legend/
http://www.dailyactor.com/wp-content/uploads/2015/09/Emily-Blunt-Sicario.jpg
Emily Blunt on Action Movie Roles: "I think it's important to show different layers. Nobody is just tough, nobody is just vulnerable"
Emily Blunt touches upon why she has gotten into roles with an action bent and why she thinks there aren't more action movies with female leads
http://www.dailyactor.com/actors-on-acting/emily-blunt-sicario-acting-layers/
http://www.dailyactor.com/wp-content/uploads/2015/09/Jorja-Fox-CSI.jpg
Jorja Fox on Life After 'CSI': "I've always enjoyed not knowing exactly where the road leads"
"I think you kind of have to embrace the unknown if you're an actor." - Jorja Fox
http://www.dailyactor.com/actors-on-acting/jorja-fox-life-after-csi/
http://www.dailyactor.com/wp-content/uploads/2015/09/John-Turturro-Mia-Madre.jpg
John Turturro on the Life of an Actor: "It's a rough business. I wouldn't want my kids to do it"
"I am usually very well prepared. If you're a surgeon, you've got to know what you're going to take out today." - John Turturro
http://www.dailyactor.com/actors-on-acting/john-turturro-life-of-an-actor/
http://www.dailyactor.com/wp-content/uploads/2015/09/Matt-Damon-The-Martian.jpg
Matt Damon's Controversial Comments on Actors Keeping Their Real Lives a Mystery
"I think you're a better actor the less people know about you period. And sexuality is a huge part of that." - Matt Damon
http://www.dailyactor.com/actors-on-acting/matt-damon-actors-keeping-their-real-lives-a-mystery/