Jeff Daniels on 'Newsroom' Criticism and Memorizing Sorkin's Rapid-Pace Dialogue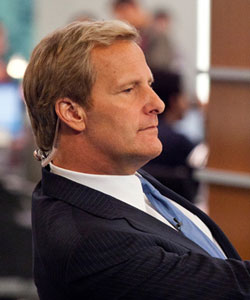 Jeff Daniels, star of the Aaron Sorkin's new HBO drama, The Newsroom, is quick to defend the show against the criticism that has appeared in the media and he thinks that any noise about the show is positive.
In an interview with The Los Angeles Times, Daniels said, "The fact that it's blown up, the fact that people love it and that people hate it—that people are just screaming at Sorkin and getting bent out of shape about this, that and the other thing—it's great.  What we love, believe it or not, is that people are talking about it."
Daniels, who plays newscaster Will McAvoy, said that his biggest challenge on the show was taking on Sorkin's signature rapid-pace dialogue.  "It takes a while," Daniels said.  "I don't have a photographic memory so it's reps.  The short answer is, you memorize it like a grocery list.  You just get the words in there in the right order—don't do anything with them and then you pick up speed.  Once you start to pick up speed, there's a rhythm to them.  Aaron writes rhythmically, there's a musicality to it.  Then it becomes a little easier to go through it…Once you get it in your head, it just kind of rolls.  It flows like a river…a very fast river."
The Newsroom airs Sundays on HBO at 10 p.m.
http://www.dailyactor.com/wp-content/uploads/2016/04/jake-gyllenhaal-demolition.jpg
Jake Gyllenhaal on 'Demolition', Working with Chris Cooper and Directors Who Want Nothing to Do With Him
"I think storytelling is the most important part of movie-making over performance." - Jake Gyllenhaal
http://www.dailyactor.com/film/jake-gyllenhaal-demolition-chris-cooper/
http://www.dailyactor.com/wp-content/uploads/2016/04/don-cheadle-miles-davis.jpg
Don Cheadle: "Be scared. Be on the edge of your creativity"
"Be willing to fall flat on your face and be in an unknown place. If you're doing that, you're probably growing" - Don Cheadle
http://www.dailyactor.com/film/don-cheadle-scared-creativity/
http://www.dailyactor.com/wp-content/uploads/2016/04/jessie-eisenberg-louder-than-bombs.jpg
What is Jesse Eisenberg's "Most Fulfilling Acting Experience"?
"My absolute favorite thing to do is to write a play and then, after I finish, do the first reading of it with my friends around the table"- Jesse Eisenberg
http://www.dailyactor.com/actors-on-acting/jesse-eisenberg-most-fulfilling-acting-experience/
http://www.dailyactor.com/wp-content/uploads/2016/03/Lupita-Nyong'o-eclipsed.jpg
Lupita Nyong'o on Her Broadway Debut: "When we get up on that stage, you do not know what will happen"
"I think theater offers a chance to flex muscles that then only help to sustain cinematic work." - Lupita Nyong'o
http://www.dailyactor.com/broadway-theater/lupita-nyongo-eclipsed-broadway/
http://www.dailyactor.com/wp-content/uploads/2016/03/jake-gyllenhaal-demolition.jpg
Jake Gyllenhaal on Missed Superhero Opportunities and Portraying "Antisocial" Characters
"I've always wanted to have the opportunity to play a number of different roles, and I knew it wasn't necessarily the role, but how you played them" - Jake Gyllenhaal
http://www.dailyactor.com/film/jake-gyllenhaal-antisocial-characters/