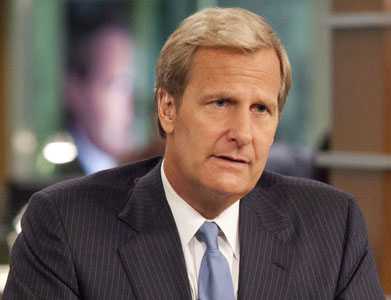 Actor Jeff Daniels has been making the rounds in promotion of his latest role in Aaron Sorkin's new hit HBO series, The Newsroom, that just managed to rake in 2.1 million viewers in its debut. 
In a recent interview with Terry Gross of Fresh Air, Daniels does discuss his latest gig on the show as news anchor Will McAvoy, but what makes you truly appreciate the talents of Daniels, who is terrific at playing the jerk, is his real life attitude towards meeting the challenges of acting and his technique while performing.
During the Q & A session, Daniels talked about what it is like for him to deal with little time and hefty scripts.  "We get a new play, basically, 90 pages every two weeks. And there is little to no rehearsal, and that's the difference. So as an actor, you can complain about that, or you can ask yourself, well, what do I have to do to get ready because we're going to shoot it whether I'm ready or not on Tuesday, and it's 13 pages."  Adding, "We have to be able to own it."
When asked about his techniques regarding memorizing the script, the Terms of Endearment performer shared, "I've got to just walk through it. I memorize it like a grocery list, bland. Alan Arkin taught me that. I did a TV thing with Alan, he directed it. He'd always been a hero of mine. And he said: Let's do a reading, let's read the script and just read it flat, like a grocery list, no choices, nothing. I don't want anything, nothing, just read it as boringly and as blandly as possible.  And that's one thing that helps me is I learn it blandly, vanilla, then I don't try to act it too soon because you start to act it, and you kind of go away from what the next sentence is, what the next paragraph is. So get it down so it kind of can – it's in there so you can then, as I call it, dance on top of it.  You've got to know it before you can dance on top of it and make it sound like it's something falling out of this guy's head instead of off of a page."
Watch Jeff Daniels in a clip of The Newsroom below.  The series airs Sundays on HBO.