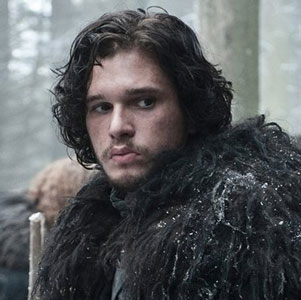 It's hard to believe that the man we've come to love as Jon Snow on HBO's Game of Thrones had never acted onscreen before landing the role.  But it's true that Kit Harington had only appeared onstage before he joined the hugely successful series.
"By the time it goes the distance, it will be years and years," he mused in an interview with The Los Angeles Times.  "It will be most of my 20s, really.  You look at it in those terms, and that's a big portion of my life that I'm dedicating to this show.  So I've got to love it."
Harington is coming to terms with playing a character that audiences will follow over the course of many years.  "What it really is, is playing the journey into being a man," he said.  "Playing it while I'm going through that myself is kind of a bizarre thing for me—developing a character while going through my 20s and making my own mistakes while Jon was making his in completely different worlds.  So each year, I return to him hopefully having grown up a bit as a person, to bring that into him."
Harington was eagerly reading George R.R. Martin's books, but realized he couldn't read too much without jeopardizing the character's authenticity.  "I devoured them, really," he admitted.  "I stopped because I got way too far ahead of myself.  He becomes an older, different person, and I had to really reel back my mind for Season 1, because he's just this young chap, and none of that world has hit him yet."
The actor has also had to live some firsts along with Jon Snow, like his love scene with Ygritte (Rose Leslie).  "It's strange being nude in front of a whole crew full of people and trying to be very intimate," he said.  "It's a very surreal experience.  But it was such a beautiful scene.  It was one of those very happy moments that you get in this series.  You don't get many moments of tenderness."
Even though Harington is starting to land film roles, he's still staying connected to his Game of Thrones cast.
"There's a lot of us who are young British actors who this is our first experience of being in a show like this, and I think that bonds you in a certain way," he explained.  "I don't want it to become a kind of monster where it stops being personal.  At the moment, it feels like a very close-knit family that we're part of."