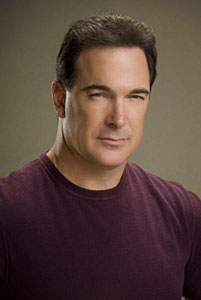 How does a television network "kill off" a program?  That's easy — put it in a terrible time slot. 
So if you're involved in the production of the CBS sitcom Rule of Engagement, you're probably not feeling a lot of love from your network lately since CBS is moving the series — which is entering its sixth season — to Saturday evenings, which is typically considered the worst time slot in prime-time. 
One person who really isn't happy is star Patrick Warburton.  
He pulls no punches when he tells TV Guide, "What a shit time slot.  The scripts are great and we're having a lot of fun doing the show, but God knows if anybody's gonna find us on Saturday night."  Warburton believes that the show — which had a slight increase in ratings despite being moved around the CBS schedule numerous times in its history — will make it back to a typical weeknight schedule mid-season when another show is canceled, but nonetheless he still admits, "nobody's excited about Saturday night."  As a result, Warburton laments that this switch might signal the end of the sitcom.  "This is probably our last year of the show.  The show does really well in reruns, and if they want to syndicate, they need to get to 100 episodes. So they're doing that to us."  The show currently has 72 episodes through the five previous seasons, so if CBS does want to syndicate Rules of Engagement the show will likely need at least one more season after this one. 
But hey, remember in the mid  to late1990s when Friday was a big night for television?  I don't know if anything like that is in store for Rules of Engagement, but you never know.