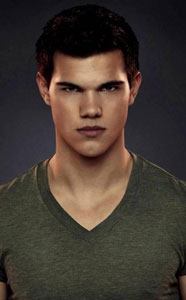 As Twilight fans are preparing themselves for the last installment, Breaking Dawn: Part 2, Taylor Lautner, who stars as werewolf Jacob Black, is also trying to cope with the end of the franchise.
"It'll be tough to say goodbye to spending time with people that I love," Lautner said in an interview with Yahoo! News.  "We've grown so close over the past few years.  Our relationships will go on past this but to not have that excuse to spend day after day together while filming or promoting will be different."
Lautner faced one of his biggest obstacles with the role in this particular film—where the audience learns that Jacob has a special connection to Bella and Edward's daughter.  "It was a challenge, and it is so complicated, but really nobody understands it more than Stephenie Meyer who created it," he said.   "I was picking her brain all day long about it.  She basically told me over and over again, 'Taylor, stop trying to over think it, stop trying to take it different places…It's a lifelong bond between two people, that's it.'  In the movie, [Renesmee, the daughter] is 10 years old, it's much more of a protector relationship right now, and of course the relationship will grow more but we don't explore that, but it was important for me to keep it simple." Read more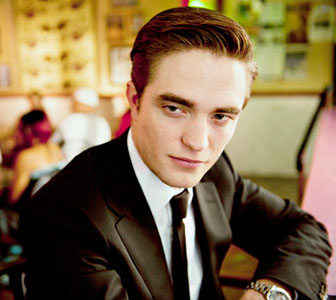 There is so much press surrounding Robert Pattinson's after his costar/girlfriend Kristen Stewart cheated on him, that it's sometimes hard to remember he's an actor.
His upcoming role in the film Cosmopolis was "one of the first times I considered myself an actor," he said, despite his enormous success previously in the Twilight series.
"I had to come to terms with that," Pattinson said, as reported by AZCentral.  "That was one of my first questions.  'What do you see in me?  Why?  Why?  Why are you hiring me?'  [Director David] Cronenberg is one of those people when you're asked who you want to work with, he doesn't even come into my head.  Because that's like saying, 'Want to work with Orson Welles?" Read more
Here's the full panel (minus the first 7 minutes of the film they showed us) of the Twilight: Breaking Dawn Part 2 panel at this years Comic-Con. 

My girlfriend got up at the crack of dawn and got in line with some friends and I weaseled my way into the massive Hall H line at around 10. Yeah, I was that guy.
The whole cast, including Robert Pattinson, Kristen Stewart, Taylor Lautner and Ashley Greene, was in attendance and even though I'm not the biggest fan of the series, the panel was pretty enjoyable.
Check it out below! Read more
Every year Forbes releases its list of Hollywood's highest paid actors, and the results are often surprising.  Take this year, for example, with Tom Cruise topping the list at $75 million.  Though Cruise was paid handsomely for Mission: Impossible – Ghost Protocol and Rock of Ages, it seems more likely that he would've topped the list in 1992 rather than 2012.  But Cruise leads the pack with more than double the take of the two actors tied in second place, Leonardo DiCaprio and Adam Sandler, both at $37 million (though I guess I'll add the expected comment about Cruise's pending divorce possibly taking a hit of that income here).  Sandler remains an annual top earner, even if his movies tend to get worse by the year.
Coming in just under DiCaprio and Sandler is Dwayne "The Rock" Johnson ($36 million), who has recently been called "franchise Viagra" based on helping both Fast Five and Journey 2 The Mysterious Island become the highest grossing films in their respective franchises.  Paramount is certainly hoping he can work his magic a third time with the recently delayed G.I. Joe sequel. Read more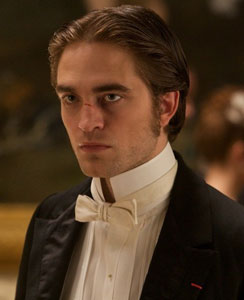 Twilight star Robert Pattinson might make a convincing vampire, but he needs some help sounding British—even though he's from the United Kingdom. 
According to The Daily Mail, Pattinson needed elocution lessons to maintain his British accent after he had spent too much time living in the US.
Christina Ricci is starring alongside Pattinson in the new film Bel Ami and in a recent interview with Jimmy Kimmel, she said, "They hired an accent coach as Rob's spent a lot of time in LA.  He made fun of me as I was trying to be British and sounded like a Hollywood valley girl." Read more
Although Robert Pattinson has gained international fame with his portrayal of vampire Edward Cullen in the Twilight franchise, the 26-year-old says he is more than ready to put the part behind him. 
In an interview with ShortList, Pattinson admits that "playing the same part for a while, you just run out of ideas.  You feel kind of useless, you don't know what to do anymore."
The fifth and final film, Breaking Dawn: Part Two, will be released in November, and it seems like that end date can't come soon enough for the British actor.  Read more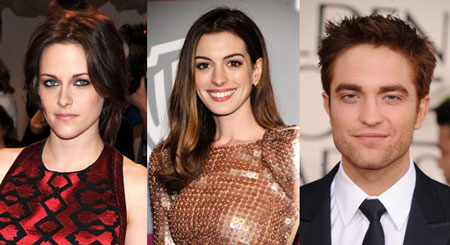 Delivering their annual list of Hollywood's Best Actors for the Buck, Forbes has revealed who came out on top in Tinseltown this year. 
Based on the performers three major releases in the last five years, the news giant named Twilight actress Kristen Stewart at No. 1.  The twenty-one year old actress, who plays Bella Swan in the Stephenie Meyer vampire adaption, earns $55.83 for every $1 she is paid. 
The Princess Diaries star Anne Hathaway came in at No. 2, she averaged a return of $45.67.
Surprisingly Hathaway beat out Robert Pattinson, the other star of Meyer's multi-million dollar story.  Pattinson's additional films outside of the Twilight franchise, as pointed out by Forbes, didn't fare well at the box office, causing the actor to score only $39.43 for every dollar he was paid.  Read more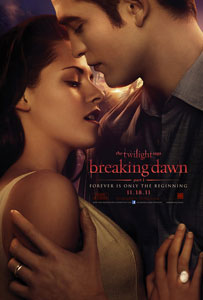 The Twilight Saga: Breaking Dawn – Part 1: Bella and Edward, plus those they love, must deal with the chain of consequences brought on by a marriage, honeymoon, and the tumultuous birth of a child… which brings an unforeseen and shocking development for Jacob Black.
Director: Bill Condon
Cast: Robert Pattinson, Kristen Stewart, Taylor Lautner, Kellan Lutz, Ashley Greene, Nikki Reed, Peter Facinelli, Jackson Rathbone, Elizabeth Reaser
In Theaters: November 18th, 2011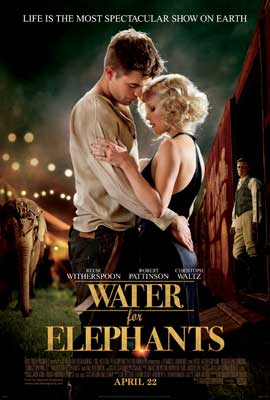 Here is trailer #2 for Water for Elephants: Based on the acclaimed bestseller, WATER FOR ELEPHANTS presents an unexpected romance in a uniquely compelling setting. Veterinary school student Jacob meets and falls in love with Marlena, a star performer in a circus of a bygone era. They discover beauty amidst the world of the Big Top, and come together through their compassion for a special elephant. Against all odds — including the wrath of Marlena's charismatic but dangerous husband, August — Jacob and Marlena find lifelong love.
Director: Francis Lawrence
Cast: Reese Witherspoon, Robert Pattinson, Christoph Waltz
Water for Elephants: Based on the acclaimed bestseller, WATER FOR ELEPHANTS presents an unexpected romance in a uniquely compelling setting. Veterinary school student Jacob meets and falls in love with Marlena, a star performer in a circus of a bygone era. They discover beauty amidst the world of the Big Top, and come together through their compassion for a special elephant. Against all odds — including the wrath of Marlena's charismatic but dangerous husband, August — Jacob and Marlena find lifelong love. from trailers.apple.com
Director: Francis Lawrence

Cast: Reese Witherspoon, Robert Pattinson, Christoph Waltz