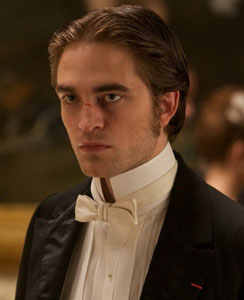 Twilight star Robert Pattinson might make a convincing vampire, but he needs some help sounding British—even though he's from the United Kingdom. 
According to The Daily Mail, Pattinson needed elocution lessons to maintain his British accent after he had spent too much time living in the US.
Christina Ricci is starring alongside Pattinson in the new film Bel Ami and in a recent interview with Jimmy Kimmel, she said, "They hired an accent coach as Rob's spent a lot of time in LA.  He made fun of me as I was trying to be British and sounded like a Hollywood valley girl."
Pattison, 26, said earlier this week that he feels 'naked' when he has to use his real accent for film roles.
Bel Ami is now in limited release.