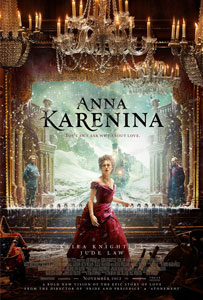 Anna Karenina: The third collaboration of Academy Award nominee Keira Knightley with acclaimed director Joe Wright, following the award-winning boxoffice successes "Pride & Prejudice" and "Atonement," is a bold, theatrical new vision of the epic story of love, adapted from Leo Tolstoy's timeless novel by Academy Award winner Tom Stoppard ("Shakespeare in Love"). The story powerfully explores the capacity for love that surges through the human heart. As Anna (Ms. Knightley) questions her happiness and marriage, change comes to all around her.
Director: Joe Wright
Cast: Keira Knightley, Jude Law, Aaron Taylor-Johnson, Kelly Macdonald, Matthew Macfadyen, Ruth Wilson, Domhnall Gleeson, Alicia Vikander, Olivia Williams, Emily Watson
Click here for the script to Anna Karenina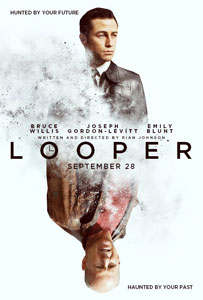 Looper: In the futuristic action thriller Looper, time travel will be invented – but it will be illegal and only available on the black market. When the mob wants to get rid of someone, they will send their target 30 years into the past, where a "looper" – a hired gun, like Joe (Joseph Gordon-Levitt) – is waiting to mop up. Joe is getting rich and life is good… until the day the mob decides to "close the loop," sending back Joe's future self (Bruce Willis) for assassination. The film is written and directed by Rian Johnson and also stars Emily Blunt, Paul Dano, and Jeff Daniels. Ram Bergman and James D. Stern produce.
Writer/Director: Rian Johnson
Cast: Bruce Willis, Joseph Gordon-Levitt, Emily Blunt, Paul Dano, Noah Segan, Piper Perabo, Jeff Daniels
Click here for the script to Looper
It's that time of year where everyone and their alcoholic uncle are giving you their list of the best and worst films of 2012. So, we here at Daily Actor are jumping in, minus our drunk uncle.

The Top 10 Films of the 2012
1) Zero Dark Thirty
You've know doubt heard all of the hype on this film that stars Jessica Chastain and Jason Clarke, and guess what? It lives up to it and then some. The film, about the hunt for Osama Bin Laden, proves once again that director Katheryn Bigelow is a true force. Definitely a must see!
2) Argo
This has been out for a while now and if you haven't seen it yet, my question is: Why not? In a story where most of us know the ending, Director Ben Affleck manages to ramps up the suspense and forces you to sit on the edge of your seat.
3) Killing Them Softly
Starring Brad Pitt, Richard Jenkins, James Gandolfini and a handful of wonderful character actors, this film tanked at the box office. I can see why: most scenes involved just 2 people in a room talking… and talking… and talking. Boredom for some, but for those us who cherish actors and their craft, you will love it. Watch this and get schooled.
4) Hello I Must Be Going
Anytime Melanie Lynskey has a starring role in a film, that's a good thing. Director Todd Louiso's story of a divorced woman who is forced to move back in with her parents and then starts a relationship with the young son of her fathers business partner is funny, touching and a showcase for Lynskey.
5) Starlet
The film stars Dree Hemingway (yes, of that Hemingway family) as Jane, an up-and-coming porn star who forms an unlikely friendship with the elderly Sadie (80-year-old newcomer Besedka Johnson). Director Sean Baker knocks it out of the park with this small, intimate (very intimate) film.  Read more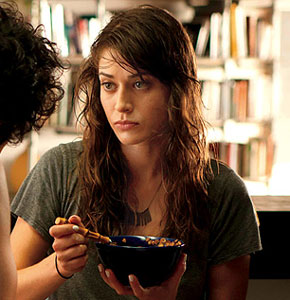 Lizzy Caplan is such a good actress that you might actually believe she's just like the roles she plays—a somewhat nerdy lawyer on New Girl, a druggie in the film Bachelorette.  But the comedienne is just adept at "finding some similarities between myself and the characters, even if it's the tiniest thing."
Caplan told Interview Magazine that "the True Blood character was probably the biggest departure for me, because I'm the opposite of like a vegan hippie chick.  I can't, I can't even.  But, in comedy roles I gravitate towards broken girls, and so I can definitely draw some real-life experiences."
In Caplan's new project, the television series Masters of Sex, the actress has taken on a role that is the complete opposite of her own personality.  "The show I'm doing next, Masters of Sex, is a drama and takes place in the '50s and that is very, very unlike me, how she behaves, there's a lot of space between her and me in real life," Caplan noted.  "It's about Masters and Johnson, the sex researchers in the '50s.  It's their story and their research, but their actual story, I'm very curious to see if people think that we are stretching the truth because the insane stuff in our show is true." Read more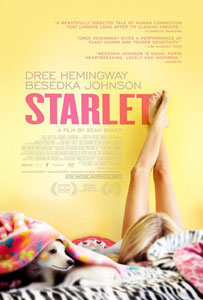 I saw director Sean Baker's last film, Prince of Broadway, at the 2009 San Diego Film Festival and it was hands down, the best film I saw that weekend. Gritty, realistic and mostly cast with non-actors, the is film about Lucky (Prince Adu), a hustler in New York City's wholesale district who is forced to adapt to when an ex-girlfriend drops a baby off on him. 
In his newest effort, Starlet, Baker moves coasts to Los Angeles and once again, knocks it out of the proverbial park.
The film stars Dree Hemingway (yes, of that Hemingway family) as Jane, an up-and-coming porn star who forms an unlikely friendship with the elderly Sadie (Besedka Johnson). After she finds a stash of money from a vase purchased at a yard sale, Jane, along with her dog Starlet, attempts to find out the story of Sadie's mystery cash.
Jane's world of porn shoots, bad roommates and sketchy mentors seem like a world away from Sadie's insular and restrained life and as the story moves forward, Jane finds herself becoming more and more attached. Unlike everyone else in Jane's life, Sadie doesn't need her and watching Jane force herself upon Sadie, you get the feeling that that is Jane's lot in life; being needed and wanted. Read more
Just in time for Thanksgiving, comes the Red Dawn remake. The movie no one wanted or demanded stars Chris Hemsworth and Josh Hutcherson as a group of teenagers who save their small town from a North Korean invasion. If you want the real Red Dawn, catch it on Netflix. Wolverines!

Also opening this weekend are Life of Pi, Anna Karenina and Holy Motors. Read more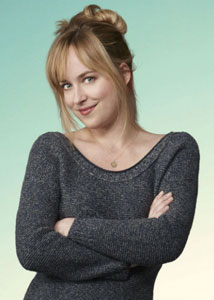 Dakota Johnson was definitely able to relate to her role as a sibling in FOX's sitcom Ben and Kate.  She was less ready for portraying a mother.
"It makes me feel old," the 23-year-old told The New York Post.  "It's nice to get home at the end of the day and not have a kid.  I was even mentally prepared for playing a mom.  This is the kind of thing where I get to have a really different sort of relationship with my kid.  The characters are friends.  That's so different from what you see on TV.  It's usually the mom yelling at the kid and the kid's getting into trouble."
Johnson, the daughter of actors Don Johnson and Melanie Griffith, has enjoyed working with her costar Nat Faxon. "When we're doing a lot of improv-ing, it's sometimes weird to rein it in," she said.  "We're really good at playing off each other.  And I can tell what's coming." Read more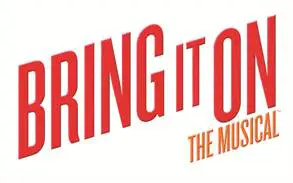 Bring It On: The Musical, the new Broadway show based on the Universal film of the same name, is closing.
It will play its final performance of its limited engagement on Sunday, December 30, after 21 previews and 173 regular performances.
The show premiered in a developmental production at the Alliance Theatre in Atlanta in early 2011 and launched a 13-city tour at the Ahmanson Theatre in Los Angeles almost a year ago (October 30th). That tour ended in Toronto on June 3, and they show headed directly to Broadway to begin preview performances on July 12th. It was scheduled to play through October 7 but after some good notices, they announced a 15-week extension through January 20th.
Discussions for additional tour dates in the 2013-14 season are underway. Read more
Premium Rush aside, Joseph Gordon-Levitt appears in two of the best-rated action films of 2012, The Dark Knight Rises and Looper, and also stars in the likely Oscar-contending drama Lincoln due out in November. In an interview with New York magazine, Gordon-Levitt talks about the makeup he had to wear to portray a younger version of Bruce Willis in Looper and what inspired him to direct his first film, which is due out next year.
Gordon-Levitt reveals that it was a bit odd between takes when he was still in the makeup that made him look more like Willis, and when asked if he stayed in character or reverted to his usual self he says, "Probably some of both. One of my good friends visited the set and was really disturbed, didn't want to talk to me. My mom, too. She said, 'When I stand next to you, you feel like my son, but when I look at you, you're this different guy.' She found it a little odd." Read more
These days it seems like indie actress Lizzy Caplan is popping up everywhere, from her new movie, Bachelorette, to a guest stint on New Girl.  The actress also has two upcoming projects: the film 3,2,1…Frankie Go Boom and the TV series, Masters of Sex.
Caplan admits she was drawn to Frankie because "I needed a job!  That was definitely part of it."  But the paycheck wasn't the only reason she wanted to do another indie.  She also added, "I read the script and really fell in love with it and really wanted to go after it because I thought it was so strange and yet so funny.  Just real laughs when reading a script are difficult to come by.  And I also thought it would be a very challenging character because even though for the second half of the movie she's pretty straight and sweet, those first early scenes, I knew would be something that would terrify me right before he yelled 'Action.'  And that's the kind of stuff I seek out." Read more