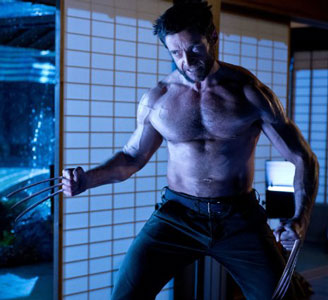 We all know that Hugh Jackman gets in incredible shape every time he appears as Wolverine in a movie — the upcoming The Wolverine is Jackman's sixth time as the Marvel superhero — but anyone who has seen the promotional material for The Wolverine can tell you that Jackman is looking extra ripped this time around, something that probably wasn't easy after playing the emaciated Jean Valjean in last year's Les Miserables.  So how did Jackman pull off his action hero physique?  Well, he turned to an action hero: Dwayne "The Rock" Johnson.
Jackman tells Access Hollywood, "I called him actually before I did Les Mis because I was like, 'Man, I have a feeling this is going on. I have to cut down and really lean down in size,' and he told me a number of things.  First of all, he said, 'When you're lean-ing down, still keep your strength. You can still go in and push weights, so that as soon as you start eating again you'll go back quickly'. But, he said, 'You gotta eat 6,000 calories a day, you've gotta train three hours.'"
Unfortunately for us mortals who might think otherwise, Jackman reveals that he didn't get reach that daily calorie intake from eating comfort food.  He admits, "It's chicken breast and vegetables.  Six thousand calories a day could be a pizza and a nachos, but unfortunately it's a lot [of chicken]and fish. I'm going to some kind of chicken hell at the end of this. I've literally murdered nations of chickens. Yes, I'm not the poster boy for the vegan movement, but it's that and training hard and time."
Jackman also spoke about a funny moment that happened while he was on the phone with Johnson and they were interrupted.  He recalls, "One of the coolest moments when I was speaking to him — he was on a movie at the time — and in the background someone knocked on his trailer door and he goes, 'Hang on a second!' He opens it up, he goes, 'I'm talking to Wolverine, you tell them on set they can wait."
Something tells me they didn't have a problem waiting…
via Yahoo!