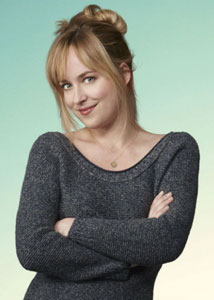 Dakota Johnson was definitely able to relate to her role as a sibling in FOX's sitcom Ben and Kate.  She was less ready for portraying a mother.
"It makes me feel old," the 23-year-old told The New York Post.  "It's nice to get home at the end of the day and not have a kid.  I was even mentally prepared for playing a mom.  This is the kind of thing where I get to have a really different sort of relationship with my kid.  The characters are friends.  That's so different from what you see on TV.  It's usually the mom yelling at the kid and the kid's getting into trouble."
Johnson, the daughter of actors Don Johnson and Melanie Griffith, has enjoyed working with her costar Nat Faxon. "When we're doing a lot of improv-ing, it's sometimes weird to rein it in," she said.  "We're really good at playing off each other.  And I can tell what's coming."
Although Johnson comes from actor parents, she says she didn't get a lot of words of wisdom from them.  "There's no advice anybody can give you at all," she said.  "It's really personal to each actor.  It's insane.  While people are watching one episode, we're filming five more episodes.  There are a few bits that were filmed the day before the show came on the air.  It's an insanely physically taxing job."
Ben and Kate airs on Fox, Tuesdays at 8:30 p.m.