Comic-Con: The cast of Adult Swim's NTSF:SD:SUV were at Comic-Con to plug their new season. I'm a big fan of the show and always think it's a treat to talk with these guys.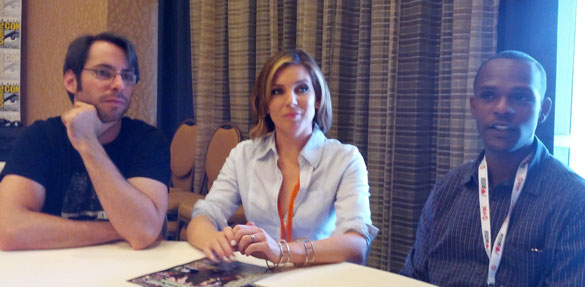 The show stars Paul Scheer, Kate Mulgrew, Brandon Johnson, June Diane Raphael, Rob Riggle, Martin Starr, Peter Serafinowicz and welcomes Karen Gillan (Dr. Who) as their newest cast member. NTSF follows Special Agent Trent Hauser (Scheer) and his elite counter-terrorist unit, the NTSF:SD:SUV:: (National Terrorist Strike Force: San Diego: Sport Utility Vehicle::) This year, Trent and his team will employ some of the riskiest methods they've ever attempted in order to bring down San Diegan terrorist scum, including surgically swapping faces with each other, kidnapping an alien, faking their own deaths, getting into the viral video biz, unfreezing a former 1960's radical, boarding Comic-Con Air, and heading into the dangerous British District of San Diego (which was shot on location in London. England!)
I talked to Martin Starr, June Diane Raphael and Brandon Johnson in a roundtable interview and they were great sports. I say "great sports" because the problem with a roundtable interview is that we (press) are paired up and honestly, sometimes I get paired with morons. This was one of those times. When you watch the video below, you'll see what I mean. Anyway, they actors were great and I still managed to ask a couple good questions.
In the interview, they talk about shooting in London, hanging out together and Brandon tells a really funny story about having to hitch a ride with Paul Scheer for his first day of work on the show. Why? Because he didn't have a car.
Check it out below!
Comic