Review: 'That Awkward Moment' Starring Zac Efron, Miles Teller and Michael B. Jordan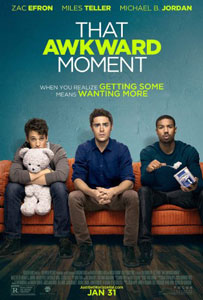 That awkward moment: when you tell your friends who hated That Awkward Moment that you enjoyed That Awkward Moment.
Look, let's get some things out of the way. This film certainly isn't great. It's got a lot of problems but thanks to the cast, you might be able to overlook it. I did.
The film, written and directed by Tom Gormican, stars Zac Efron, Miles Teller and Michael B. Jordan as three best friends who pledge not to get girlfriends after Jordan's Mikey finds out his wife has been shagging another guy.
And you know having the guys stay single ain't going to last long.
The script and characters are about as thin as the paper it was written on. Efron's Jason, who drinks his morning coffee out of a cereal bowl, was just dumped by a girl he didn't even know he was dating. He's a textbook metrosexual and is the one that has 'commitment issues'. Teller's Daniel is the guy's guy. He makes it known whenever he's taking a dump and looks like he's just crawled out of bed (yet, he still manages to hook up with incredibly hot women). Both Jason and Daniel are somehow hotshot book designers and live in way too expensive apartments in Manhattan. Jordan's character is the most mature of the bunch. He's a Doctor who's been, up till now, married forever.
At points, it felt like scenes were missing. All of a sudden we'd be in a different place or time with no explanation. And it's clear that the guys were improving because scenes went on way too long and had zero to do with anything happening in the story. And to try and ground things in reality, there's a bit of tragedy that seems out of place.
But with all that mess, the film does end up being fun. And that's purely because of the cast. Teller, Efron and Jordan are having a blast working together and it definitely shows on-screen. Efron seems to have regressed a bit acting-wise from his past couple of movies (where he was really damn good) but he does have some hilarious moments and Teller is his usual cocky/smart self that just works so well. Jordan doesn't really do anything humorous here but he fits in well with the guys.
But, what's the absolute best thing about this movie? The girls. Imogen Poots (as Efron's soon-to-be-girlfriend) and Mackenzie Davis (as Teller's wing-woman) were just perfect. Poots has been really good in everything I've seen her in and it continues here. I've never seen Davis in anything (she's relatively new having appeared in only a handful of things) but damn, I'll bet you she's going to be everywhere soon. Keep an eye out on her!
http://www.dailyactor.com/wp-content/uploads/2016/08/imperium_daniele_radcliffe.jpg
Daniel Radcliffe on Playing a Neo-Nazi in 'Imperium': "It's still just horrible to say some of this stuff"
Radcliffe reveals how he played such a layered character and what it felt like to say his character's hate-filled dialogue.
http://www.dailyactor.com/actors-on-acting/daniel-radcliffe-playing-a-neo-nazi-imperium/
http://www.dailyactor.com/wp-content/uploads/2016/08/John-Cho-Star-Trek-Beyond.jpg
How John Cho Took A Stand for Diversity Early in His Career
"When one does speak one's mind, one might be surprised at how receptive people are." - Actor John Cho
http://www.dailyactor.com/actors-on-acting/john-cho-took-a-stand-for-diversity/
http://www.dailyactor.com/wp-content/uploads/2016/08/simon-helberg-florence-foster-jenkins.jpg
Simon Helberg on His 'Florence Foster Jenkins' Role: "I'm an actor and I want to stretch different muscles"
Helberg spoke about portraying his character in the film and whether or not he feels typecast by his Big Bang Theory role.
http://www.dailyactor.com/actors-on-acting/simon-helberg-florence-foster-jenkins-role/
http://www.dailyactor.com/wp-content/uploads/2016/08/Will-Chase-Something-Rotten.jpg
The Role That Got Away: Will Chase on Returning to 'Something Rotten!'
"I know that I am a poor man's fill-in-the-blank. And I know that there are poor man's Will Chases out there. That's just the nature of the business" - Will Chase
http://www.dailyactor.com/actors-on-acting/will-chase-something-rotten-role-that-got-away/
http://www.dailyactor.com/wp-content/uploads/2016/08/Julia-Stiles-Jason-Bourne.jpg
Julia Stiles on the Jason Bourne Series and Growing as an Actress: "There's always room for improvement"
"I like a director that encourages me to be playful. I don't really like being restricted or controlled by a director." - Julia Stiles
http://www.dailyactor.com/actors-on-acting/julia-stiles-growing-as-an-actress/