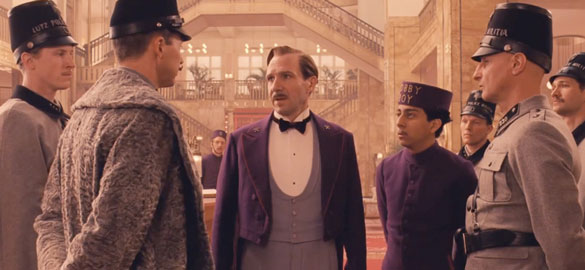 I'll admit that I'm not the biggest Wes Anderson fan. I liked Rushmore quite a bit but his films are just a bit too quirky for me. I love that he has a unique voice as a filmmaker but for the most part, I never understood the praise that was given him.
But when a film is good, I'm happy to shout it from the rooftops and his latest, The Grand Budapest Hotel, is definitely deserving because it's terrific.
Thanks in part to an absolutely wonderful performance from Ralph Fiennes, this is by far the best film I've seen this year. It's only March, I know… and hey, the new Captain America movie isn't even out yet!
The Grand Budapest Hotel tells the story of Gustave (Fiennes), a concierge at the legendary Grand Budapest Hotel, and Zero (Tony Revolori), the new lobby boy who becomes his confidante. The two go on a series of adventures (and mis-adventures) as they try and recover a priceless stolen painting and try and gain the inheritance (which is rightfully Gustave's) of a older woman he doted on for years.
The film is classic Anderson. The camera work, set design and child-like special effect shots are all there as are his troupe of actors; Bill Murray, Jason Schwartzman and Owen Wilson (who are only in the film briefly). So, why was it so damn good? Like I said: Ralph Fiennes.
Who knew he was so comedically talented? His line readings and spectacular, laugh out loud funny most of the time. And you never know how he's going to react to certain situations. He turns left when you expect him to turn right, up when you think down. I knew he was a gifted actor but he's vaulted up my list with this performance.
He's helped with a nice deadpan performance from Revolori, who is always on the receiving end of Gustave's madness.
I hope Anderson adds Fiennes to his growing list of actors who he works with because this collaboration is well worth seeing again and again. 
Writer/Director: Wes Anderson
Cast: Ralph Fiennes, Tony Revolori, F. Murray Abraham, Mathieu Amalric, Adrien Brody, Willem Dafoe, Jeff Goldblum, Jude Law, Bill Murray, Edward Norton, Saoirse Ronan, Jason Schwartzman, Tilda Swinton, Tom Wilkinson, Owen Wilson