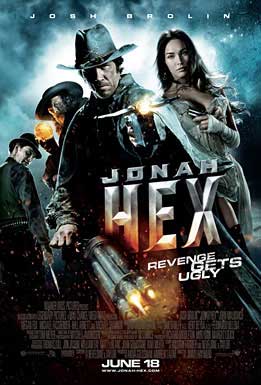 Here's how to determine if you'll want to see Jonah Hex:
Do you like the DC comic it's based on?
Do you like Josh Brolin?
Do you like explosions?
Do you want to kill 80 minutes of your life?
Then you will most likely want to see Jonah Hex. Everyone else, stay home.
Josh Brolin stars as Jonah Hex – a civil war veteran turned bounty hunter with mystical powers that allow him to talk to the dead.
There's nothing really spectacular about the film except the name actors that appear in small roles. I'm not talking about Megan Fox as his love interest Lilah or John Malkovich and Michael Fassbender as the villans. I'm talking about Will Arnett, Aiden Quinn, Lance Reddick, Michael Shannon and Jeffrey Dean Morgan.
Good actors right? But what the heck were they doing in this movie?
Will Arnett and Aiden Quinn were in 3 scenes. Lance Reddick – 2 scenes. Jeffrey Dean Morgan – a whopping 1 scene and Michael Shannon? I don't even remember seeing him in the movie.
Maybe all these guys were fans of the comic? I'm betting not.
Hey studios, save these small roles for actors who need the work. They were good in the parts…but with small roles like these, it brings you out of the movie. Hey, that's Will Arnett. Is that Jeffrey Dean Morgan?  You expect them to do more and when they don't, you think – why were they in the movie? Maybe their scenes were left on the cutting room floor? I don't know. I don't care. I just wish it would stop.
I give this movie a D+. Josh Brolin was really good and like I said, it was really short.
Oh, and all the best scenes are in the trailer.