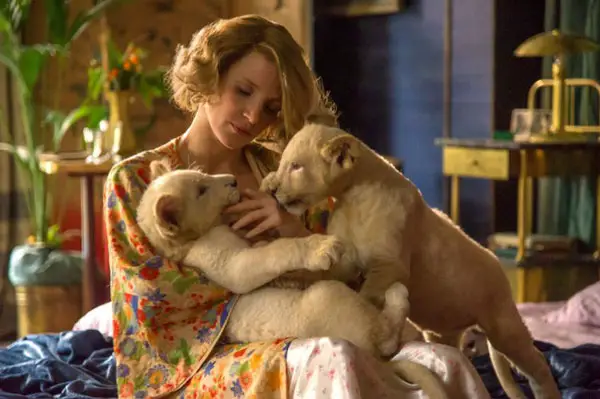 Even though there are so many thing to admire about The Zookeepers Wife – mainly the performances and Niki Caro's sure-fire direction – you'll walk away feeling like the film just scratched the surface of this incredible story.
The film tells the true story of Antonina Żabińska (Jessica Chastain) and her husband Dr. Jan Żabiński (Johan Heldenbergh). It's 1939 and the two run the successful Warsaw Zoo in Poland. When the country is invaded by the Germans, are forced to send most of their animals to Germany, under the assumption that Hitler's head zoologist, Lutz Heck (Daniel Brühl) will keep them safe. Even after agreeing to send the animals away, the pair must still report back to Heck, who has now taken over the zoo completely. After the murders of their animals and the rounding up of their Jewish friends, they realize that something must be done, so they begin work to hide and save as many people as they can, putting their own lives at risk.
It's a powerful story, no doubt but one that feels squeezed into the 2-hour movie format. There are so many characters coming and going, characters that are risking their lives or are desperately trying to save themselves, it's a shame they didn't get any screen time. One German character appears out of the blue and offers to help Jan and Antonina with forged papers so they can escort people into the safe zone to safety. Why would this man of prominence risk his life to do that? Sure, it was the right thing to do, but how did he come to find that Jan and Antonina were doing this? Who told him?
The story itself is so full of intricate details that it feels like it would have been better off as a one and done season on HBO, like they're doing with Big Little Lies right now.
That being said, the film is terribly sad, uplifting and everything in between. Chastain is outstanding. She's a working wife and mother who becomes the driving force of this movement, the hero to so many. Heldenbergh is equally fine as her husband who, reluctantly at first, joins her in the resistance. And Bruhl is terrific as the Nazi who thinks he's smarter than anyone in the room.