Movie Review: Joe Swanberg's 'Happy Christmas' Starring Anna Kendrick, Melanie Lynskey & Lena Dunham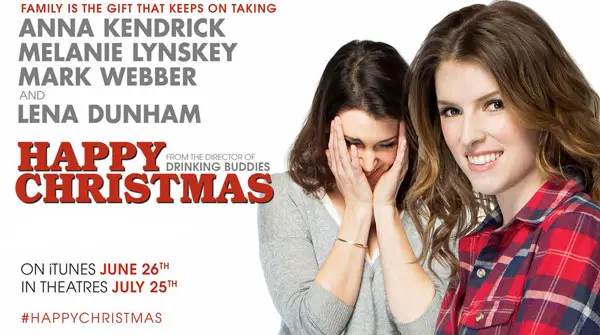 When I saw Joe Swanberg's Drinking Buddies at SXSW, I was in heaven. The all-improvised film about employees working at a small brewery was teriffic and I loved every second of it. You can read my review here. Even upon repeated viewings, the film, starring Olivia Wilde, Jake Johnson, Anna Kendrick and Ron Livingston, still holds up. I"m betting that it'll be in my list of top 10 films for years to come.
In his new film, Happy Christmas, Swanberg once again teams up with Kendrick and grabs one of the lead roles for himself. He even features his real-life son, Jude, who might just be the cutest baby ever. This is coming from a person who hates babies in movies.
The story starts when Jenny (Kendrick) moves in with her brother, Jeff (Swanberg), and sister-in-law, Kelly (Melanie Lynskey), after a breaking up with her boyfriend. Kelly's aimless and a big drinker, causing the families quiet life to quickly go to pot. Speaking of pot, Jenny starts to causally date Kelly's pot dealer/baby sitter (Mark Webber). The longer she stays and the more irresponsible she becomes, the more Kelly begins not to trust her, especially around the baby (who again, is the cutest kid EVER). Things start to change as Kelly and her friend, Carson (Lena Dunham), encourage her to start writing her long-gestating novel.
The film, like Drinking Buddies, all-improvised and ultra-realistic. It's like if a reality show were actually real and not staged, it would be like this. It's just immensely interesting to see how Swanberg can grab these performances. There are no actor-y moments here.
Unfortunately, the story is lacking. There's no real plot to move the story forward and at times it feels like it's treading water. As an audience member, I need something to hold on to. I need to feel like we're watching a story with a beginning, middle and end. Here, it feels like we only got to the end of Act 2.
Also, I didn't buy the relationship with Kelly and the pot dealer. Kelly only hooks up with him because he's the only guy around and it just didn't seem plausible. There was nothing interesting at all in their scenes and I even caught myself drifting off the couple scenes they had together.
Swanberg is a gifted director (and surprisingly great actor) and even though this is a bit of a stumble, if you're a fan, you this is definitely well worth a look.
Cast: Anna Kendrick, Melanie Lynskey, Mark Webber, Lena Dunham, Joe Swanberg
Writer/Director: Joe Swanberg
http://www.dailyactor.com/wp-content/uploads/2016/08/Will-Chase-Something-Rotten.jpg
The Role That Got Away: Will Chase on Returning to 'Something Rotten!'
"I know that I am a poor man's fill-in-the-blank. And I know that there are poor man's Will Chases out there. That's just the nature of the business" - Will Chase
http://www.dailyactor.com/actors-on-acting/will-chase-something-rotten-role-that-got-away/
http://www.dailyactor.com/wp-content/uploads/2016/08/Julia-Stiles-Jason-Bourne.jpg
Julia Stiles on the Jason Bourne Series and Growing as an Actress: "There's always room for improvement"
"I like a director that encourages me to be playful. I don't really like being restricted or controlled by a director." - Julia Stiles
http://www.dailyactor.com/actors-on-acting/julia-stiles-growing-as-an-actress/
http://www.dailyactor.com/wp-content/uploads/2016/08/Michael-Kenneth-Williams-The-Night-Of.jpg
Michael Kenneth Williams on How His Roles Impact Him: "That energy's gotta go somewhere"
Since his days of playing Omar on 'The Wire', Williams has learned how to separate himself from his characters.
http://www.dailyactor.com/actors-on-acting/michael-kenneth-williams-the-night-of/
http://www.dailyactor.com/wp-content/uploads/2016/08/margot-robbie-the-wolf-of-wall-street.jpg
Margot Robbie Believed 'The Wolf of Wall Street' Would Ruin Her Career
Many actors can point to a single role that was a career breakthrough -- but not all of them realize that it's a breakthrough as it's happening.
http://www.dailyactor.com/actors-on-acting/margot-robbie-the-wolf-of-wall-street-ruin-her-career/
http://www.dailyactor.com/wp-content/uploads/2016/08/Jonah-Hill-War-Dogs.jpg
Jonah Hill Talks 'War Dogs' and Getting into Character by Listening to Music
"When I started taking acting classes, it was the first time teachers were like, 'You're good and you should keep doing this.'" - Jonah Hill
http://www.dailyactor.com/actors-on-acting/jonah-hill-war-dogs/