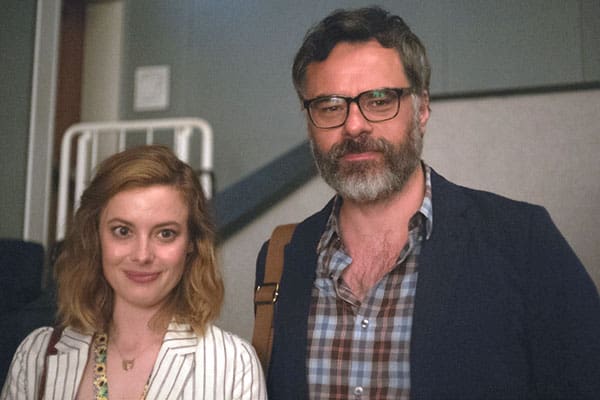 Writer and director Kris Rey's new film, I Used To Go Here, was scheduled to premiere at this year's SXSW but with that being canceled – along with everything else right now – the film is currently in limbo and seeking a distributor. Finding one shouldn't be a problem though because the film is funny and charming and absolutely deserves to be seen by a wide audience.
When we first meet Kate (Gillian Jacobs), she's about to embark on a publicity tour for her first novel. Those first few minutes of the film, everything's hunky dory… Then she gets word that her book is tanking, the reviews stink and her publicity tour is cancelled. On top of that, it doesn't help that she's recently broken up with her fiance and her closest friends are about to have babies. When David (a perfect Jermaine Clement), her former professor and mentor, invites her back to her alma mater to give a talk, she quickly accepts.
A couple things can happen when you go back to your old stomping grounds: you realize how much you've changed or you digress back to your old self and that's what Kate does both and in that order. She soon starts to spend time at her old fraternity, drinking, partying and hanging out. It helps that her old frat is filled with a group of interesting, off-beat characters that are played by a group of terrific young actors: Josh Wiggins, Forrest Goodluck, Khloe Janel, Rammel Chan, Hannah Marks and absolute scene stealer Brandon Daley as 'Tall Brandon'.
The film will remind you of those times as a young adult where one random night can lead you anywhere. It's almost like this is Kate's last last semester in school, where she's learning how to actually live a life on her own. Jacobs is wonderful and if there's any good in this world right now, this film should finally cement her as a solid 'go to' actress on everyone's list.