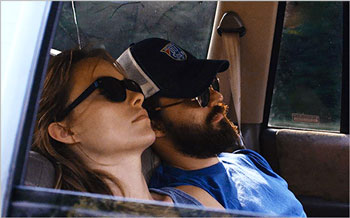 I've had drinking buddies in my drinking career but none like Olivia Wilde. In fact, if I had a drinking buddy as attractive, smart and cool as the character she plays in Joe Swanberg's new film, Drinking Buddies, I'd be slamming a few back with her right now.
In the film, Wilde plays Kate. She works for a craft brewery, has a decent enough boyfriend (Ron Livingston) and is best friends with her co-worker, Luke (Jake Johnson). Luke is dating Jill (Anna Kendrick), who is a total catch.
The things is…. Kate and Luke are perfect for each other. They have everything in common, finish each others sentences and just plain old love being around each other. Things is, neither of them realize this until both couples go away for a weekend getaway.
I'd always thought Wilde was a good enough actress. She's perfectly fine in everything I've seen her in but I'd never rush off to a film to see her in something. That changed with Drinking Buddies. Where the hell has this Olivia Wilde been hiding? She is perfect and there isn't one moment in the film that I didn't love her and her work. She's funny, real and just absolutely wonderful.
Same goes for Jake Johnson. I saw him in last years SXSW film, Safety Not Guaranteed, and thought he was pretty damn great. Here, he plays someone totally different than what you're probably used to seeing him as but he once again knocks it out of the park.
These two, Luke and Kate, are people I'd love to hang out with. I don't know if Wilde and Johnson were friends before they started filming but not once do you think that they haven't been friends forever. The film is totally improvised and they work so well together.
I'd honestly never heard of Joe Swanberg before but damn, I'm going to look for more of his work. He helped create this world and brought together such a wonderful cast.. I realyl can't wait to watch it again.
And I don't want to forget Jason Sudeikis. He's play's the owner of the brewery and I actually wish he were in the film more. Hey Swanberg… how about a spinoff?