Barrett Foa Begins Performances of 'Buyer & Cellar' May 27th!
NCIS: Los Angeles star and Broadway veteran Barrett Foa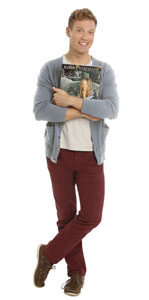 (Mamma Mia!, Avenue Q, …Spelling Bee) will begin performances as Alex More in Buyer & Cellar on Tuesday, May 27, 2014 at the Barrow Street Theatre (27 Barrow Street).
For the past five seasons, Barrett Foa has co-starred opposite LL Cool J and Chris O'Donnell as tech geek Eric Beale on CBS' top-rated hit series "NCIS: Los Angeles" which is currently the #2 show on television.
Buyer & Cellar, was just nominated for a 2014 Lucille Lortel Award. Written by Jonathan Tolins and directed by Stephen Brackett, Buyer & Cellar is in an open-ended run.
Buyer & Cellar plays Tuesday through Sunday at 7:30pm and Saturday and Sunday at 2:30pm. There will be no 7:30pm performances on Sunday, June 8 and Friday, July 4.  There will be additional performances on Wednesday, April 16 at 2:30pm, Wednesday, June 11 at 2:30pm and Monday, June 30 at 7:30pm. Tickets may be purchased by phoning 212 868-4444 or by visiting www.smarttix.com.  The Barrow Street Theatre box office opens daily at 1pm.
The first national tour of Buyer & Cellar starring Michael Urie ("Ugly Betty") will launch at Chicago's Broadway Playhouse at Water Tower Place beginning Tuesday, May 6, 2014, through Sunday, June 15, 2014, followed by an engagement at Washington D.C.'s Harman Center for the Arts from Friday, June 20, 2014 through Sunday, June 29, 2014.  Urie will then take Buyer & Cellar to Los Angeles' Mark Taper Forum for six weeks from Wednesday, July 9, 2014 through Sunday, August 17, 2014.
http://www.dailyactor.com/wp-content/uploads/2016/02/alicia-Vikander-Ex-machina.jpg
Alicia Vikander on the Her First Trip to L.A. and the Acting Tip 'Ex-Machina' Director Alex Garland Gave Her
"You [get immersed in] a film and of course you think that that is it. And then you go away and you read a new script and you have a new crush" - Alicia Vikander
http://www.dailyactor.com/actors-on-acting/alicia-vikanderacting-tip-ex-machina-director-alex-garland-gave-her/
http://www.dailyactor.com/wp-content/uploads/2016/02/Channing-Tatum-Hail-Caesar.jpg
Channing Tatum Talks 'Hail, Caesar!': "I've been beating on the Coens' door for years, man"
"It's the most I've ever prepped for a six-minute section in a movie." - Channing Tatum
http://www.dailyactor.com/actors-on-acting/channing-tatum-hail-caesar-tap-dancing/
http://www.dailyactor.com/wp-content/uploads/2016/01/Isidora-Goreshter-Shameless-audition.jpg
Isidora Goreshter Remembers Her Audition for 'Shameless'
Goreshter recently recalled that her audition for the 'Shameless' was by far her worst ever.
http://www.dailyactor.com/actors-on-acting/isidora-goreshter-audition-for-shameless/
http://www.dailyactor.com/wp-content/uploads/2016/01/Sutton-Foster-Younger.jpg
Sutton Foster: "Sometimes I won't even find a character until I put on the costume"
"I never had grand aspirations to be a movie star, to be famous or to be on TV. The theater was what I wanted." - Sutton Foster
http://www.dailyactor.com/actors-on-acting/sutton-foster-younger-character-costume/
http://www.dailyactor.com/wp-content/uploads/2016/01/Paul-Giamatti-Billions.jpg
Paul Giamatti on Building His Career: "I was always willing to just go, 'OK, sure, I'll do that'"
"I've done everything an actor can do except porn and performing in an amusement park" - Paul Giamatti
http://www.dailyactor.com/actors-on-acting/paul-giamatti-billions-building-an-acting-career/