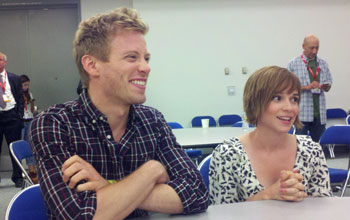 Barrett Foa and Renee Felice Smith, stars of the CBS hit series NCIS: Los Angeles were at Comic-Con 2011 (yes, I know it was almost 4 months ago – don't judge) and I got a chance to talk with them about the show, auditioning and if they feel like they have job security even though they are on a top-rated show.
It's a fun, quick interview and you can tell the two have great chemistry together and it absolutely comes out in their scenes on the show.
NCIS: Los Angeles airs on CBS, Tuesdays 9/8c
Check out our other NCIS: Los Angeles interviews: LL Cool J and Chris O'Donnell
When do you guys get your scripts for the show?
Renee Felice Smith: Probably the day before. We generally have a table read.  So, I would say, generally, we'll get the script a day before and the table read is a day prior to shooting, so maybe two or three days in advance to shooting, that's it.
Barrett Foa: Max.
Renee Felice Smith: Sometimes, it's a day of table read.
Barrett, so what was it like getting a partner now?
Barrett Foa: I would say, I love having her because we get to play off each other.  I feel like more is revealed about my character instead of just being like, I'm a talking head giving out the information before the crime starts, you know? I can do that but then also like have a conversation with her or have a flirty moment with her or have a rivalry or whatever it is we're like doing that week.  So, that's fun for me for me.
Renee Felice Smith: It makes it more interesting, I think. Even just watching the show before I even auditioned, I feel like now, Eric, he has conversations, he communicates with other human beings.  He's not just, you know, computers all the time. So, I like Eric as a partner.
Barrett Foa: It adds a human element.
Does any of the tech actually work?
Barrett Foa: No, what you're seeing is totally live.  We're actually interfacing with programs that have already been set up.  We don't program them. [laughs]
Renee Felice Smith: We don't program them but we do operate them. So if you see a photo, we're really expanding it.  A lot of people ask, "is that screen, is that all put in in post? Is that screen, like, completely blank when you're working it?"
Barrett Foa: It's a lot of fun but it's also a challenge because you're doing your lines. It's kind of, you could say, a choreographed routine.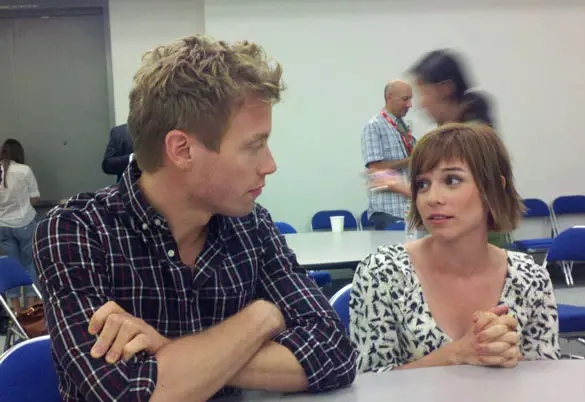 What's your advice to actors?
Barrett Foa: I think just preparedness. Know your lines, know your research, your background. And then also, just tenacity.
Renee Felice Smith: Yeah, stay with it, you know.
Barrett Foa: Be prepared and then keep with it.
Renee Felice Smith: I think the majority of people who are working have been auditioning for three to five years before you finally see them working.  I know it's kind of the case with me.  So, if I would have quit in that first year or so, "Oh well, nothing really happened."  I mean, you know, I wouldn't be right here with Barrett today.
Barrett Foa: And you know, if you do think that you can do something else or if you are like…
Renee Felice Smith: Yeah.  If you enjoy something else…
Barrett Foa: This is not for me or I want to wait another year, then stop because it's too hard.
Renee Felice Smith: Then don't, then do your thing. You know, yeah. But if you love it…
Barrett Foa: It's worth it.
Is there security in being in one of the top rated shows or do you think they could kill you off at some point?
Barrett Foa: It feels good but, you know, it is a CBS crime procedural, and like that has been done before and 12 episodes into our first season, one of our series regulars got shot and killed so, yeah.  It was kind of crazy but it keeps us on our toes.
Renee Felice Smith: You have to kind of just trust and have faith in the serendipitous nature of things.
Barrett Foa: Be in the moment.
Renee Felice Smith: And if it's your time to go, maybe it's your time to go.