Jeremy Irvine's 1st Role Was Playing a Tree on Stage. His 2nd was a Starring Role in 'War Horse'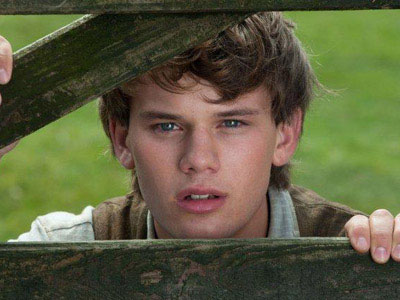 You'd think that for someone whose screen credits didn't extend beyond bit parts on the Disney Channel and who had recently played a tree on stage, a simple "You got the role!" would've sufficed, but for young British actor Jeremy Irvine, Steven Spielberg informed him he'd been cast in upcoming drama War Horse in a more creative fashion.
"Read this to camera, but don't turn it over until we say 'Action,'" Irvine was told at a callback for the role of Albert, a farm boy who tries to keep his horse alive during World War I. "Mr. Spielberg likes it to be spontaneous."
"Joey! Joey! Steven Spielberg wants me to play Albert in the feature film War Horse," read Irvine, who was just 20 when he was cast in the summer of 2010, before realizing the meaning of the words he'd just spoken.  "It was a nice way to find out," the British actor and drama school dropout said. "The whole thing isn't real to me yet. I'm still trying to take it in. I came from having no lines in the theatre to this."
When he says "no lines," he means he had zero lines. Prior to landing War Horse, which opens in the U.S. on Christmas Day and in January in the U.K., he portrayed a tree in the Royal Shakespeare Company's production of Dunsinane.
"My friends all took the mick out of me for that one, saying 'You're gonna be the tree'," recalled Irvine, who also had a bit part on Disney's Life Bites series. "And in my first scene, there I was waving two branches. I was in the chorus and had no lines."
http://www.dailyactor.com/wp-content/uploads/2016/08/imperium_daniele_radcliffe.jpg
Daniel Radcliffe on Playing a Neo-Nazi in 'Imperium': "It's still just horrible to say some of this stuff"
Radcliffe reveals how he played such a layered character and what it felt like to say his character's hate-filled dialogue.
http://www.dailyactor.com/actors-on-acting/daniel-radcliffe-playing-a-neo-nazi-imperium/
http://www.dailyactor.com/wp-content/uploads/2016/08/John-Cho-Star-Trek-Beyond.jpg
How John Cho Took A Stand for Diversity Early in His Career
"When one does speak one's mind, one might be surprised at how receptive people are." - Actor John Cho
http://www.dailyactor.com/actors-on-acting/john-cho-took-a-stand-for-diversity/
http://www.dailyactor.com/wp-content/uploads/2016/08/simon-helberg-florence-foster-jenkins.jpg
Simon Helberg on His 'Florence Foster Jenkins' Role: "I'm an actor and I want to stretch different muscles"
Helberg spoke about portraying his character in the film and whether or not he feels typecast by his Big Bang Theory role.
http://www.dailyactor.com/actors-on-acting/simon-helberg-florence-foster-jenkins-role/
http://www.dailyactor.com/wp-content/uploads/2016/08/Will-Chase-Something-Rotten.jpg
The Role That Got Away: Will Chase on Returning to 'Something Rotten!'
"I know that I am a poor man's fill-in-the-blank. And I know that there are poor man's Will Chases out there. That's just the nature of the business" - Will Chase
http://www.dailyactor.com/actors-on-acting/will-chase-something-rotten-role-that-got-away/
http://www.dailyactor.com/wp-content/uploads/2016/08/Julia-Stiles-Jason-Bourne.jpg
Julia Stiles on the Jason Bourne Series and Growing as an Actress: "There's always room for improvement"
"I like a director that encourages me to be playful. I don't really like being restricted or controlled by a director." - Julia Stiles
http://www.dailyactor.com/actors-on-acting/julia-stiles-growing-as-an-actress/