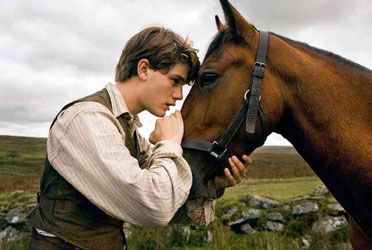 Here's 9 clips from Steven Spielberg's upcoming Oscar bait, War Horse.
I also added a 6 minute interview with Spielberg where he talks about the film, the cast and the challenges of making a movie about where the horse is the lead.
I wonder Joey the Horse didn't get a SAG nomination this morning? He deserved it!
The film stars newcomer Jeremy Irvine (this is his first big acting role), Emily Watson, David Thewlis and Tom Hiddleston.
The movie follows a young man named Albert (Irvine) who befriends a horse named Joey. When they are forcefully parted, the horse moves through the First World War, changing and inspiring the lives of all those he meets — British cavalry, German soldiers, and a French farmer and his granddaughter.
The film opens on December 25th. 
Director Steven Spielberg talks about the movie before a studio audience
Captain Nichols (Tom Hiddleston) and Major Stewart (Benedict Cumberbatch) prepare to charge.
Emilie (Celine Buckens) tries to train Joey
Rose (Emily Watson) is not thrilled about the new horse
Emilie (Celine Buckens) is not interested in birds
Albert (Jeremy Irvine) trains his horse
Rose (Emily Watson) tells Albert (Jeremy Irvine) about his father
Albert (Jeremy Irvine) races a car and impresses a girl
Captain Nicholls (Tom Hiddleston) makes a promise
Captain Nicholls (Tom Hiddleston) races a fellow officer