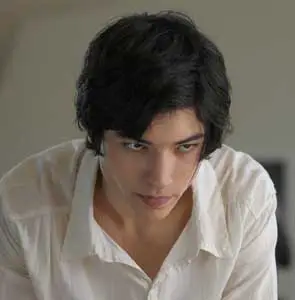 Dropping out of high school at sixteen to star in movies, We Need to Talk about Kevin actor Ezra Miller didn't take the most conventional route to fame and fortune.
However, as the 19-year-old explained in a recent interview with Moviefone, he's learned everything he needs to without doing math homework or science projects.
"I dropped out of high school on the suspicion that I could learn everything that I wanted to learn in my craft outside of an educational institution," he explained. "My suspicion was proven quite right through this unfairly fantastic education, being able to collaborate and draw from these incredible actors. It's the high-school-dropout education of a lifetime."
Who's his favorite teacher so far? That would be Andy Garcia, who encouraged the young actor to be unique in his work. "He explained, 'You have a slate that you can paint on, you can draw on it, you can make it into something. Once you've done that scene and you have it on a solid slate, you have to break it and start over,'" Miller recalled. "He was trying to communicate with me that I can't, especially in art, try to recreate something that's already been done. You will have a truer and better result if you work from an internal place and start anew, rather than replicate or mimic something that you once did." 
Miller has built up quite a resume since diving into professional acting three years ago, appearing in TV shows like Californication and Royal Pains and movies such as 2008's Afterschool, a forthcoming adaptation of The Perks of Being a Wallflower and the recently-released Kevin, a thriller about a young boy in prison after going on a killing spree. 
All of that without signing on to a film franchise like Twilight or Harry Potter. "I have many friends who've walked the franchise tightrope, and I've come close to walking it myself," said the New Jersey native. "I only want to commit to projects of that magnitude and that length of time when it would be something really right. I need to feel the honesty in the work I do."