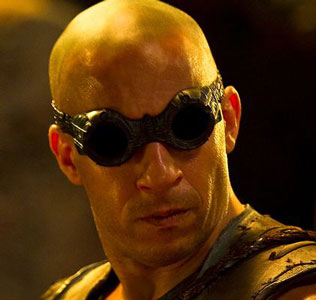 Vin Diesel has been familiar to moviegoing audiences since Steven Spielberg's film Saving Private Ryan was released in 1998. He's become an action star since his first big break all of those years ago.
Diesel is back in theaters on Friday as Riddick which is the third installment in the sci-fi series. The 46-year-old has already had a big year with Fast & Furious 6 grossing almost $800 million globally. With Fast & Furious 7 looming ahead for 2014, Reuters talked with the actor about why now was the right time for a Riddick sequel.
He shared that his family life had a lot to do with his movie-making decisions.
"…As a father, it's a little harder to carve out that time to go dark. We had promised everyone we would have Riddick before I made Fast Five," said Diesel. "In my own personal life, I was just realizing I was going to have a son and that was enough for me not to push to make Riddick (in 2010) … You can't be Riddick and welcome life. It wouldn't be fair to the audience and it wouldn't be fair to the kid."
His roles also require a level of fitness that is difficult to maintain, even with the star's body type.
The father-of-two revealed, "(Director) David Twohy wanted me to create a body type that within one week's notice could flip from the slothful Lord Marshal to the primal planet Riddick … That was very, very challenging to maintain. That called for building core strength and then while doing production if I had to go slothful, I would stop training completely. And if I had to return to planet Riddick, I would train double."
The incredible box office success in his film career also drives fans to want to know even more about his personal life. For years, the actor shielded his girlfriend Paloma Jimenez and two kids,daughter Hania Riley, 5, and son Vincent, 3, from the press.
He explained his personal philosophy of celebrity in the entertainment business by following the lead of some well-known actors.
"I am from the New York school of actors – the De Niros and the Denzels and the Pacinos – who have always been really quiet about their lives, as opposed to the more Hollywood approach that is more out there. And yet there is a change that you'll feel throughout the industry and that is the advent of social media … People are expecting to hear from you, to be somewhat let in," said Diesel.
He continued, "But people are very respectful about my privacy. My friends always talk about the fact that I am never out, never go to red carpets, don't go to events in an attempt to generate press. But at the same time, I have developed a very intimate relationship with 46 million people [on Facebook]. And that changes everything. I don't know how it is going to play out."
With the reaction he received from his fans at his Hollywood Walk of Fame ceremony just last month, it's playing out just fine.
Riddick opens in theaters Friday, Sept. 6.