Clark Gregg Talks 'The Avengers', Agent Coulson and Voice-Over Work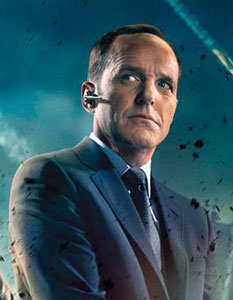 Agent Phil Coulson first appeared as a mostly background character in Marvel's Iron Man movie portrayed by Clark Gregg.  Gregg has managed to make that character a major part of the Marvel movie universe, not only appearing in Iron Man 2 and Thor but also the upcoming superhero team-up movie The Avengers. 
But Coulson isn't just on the big screen — Gregg has appeared as Coulson in several shorts that link the Marvel films, and is now also reprising the role — who also moonlights as Peter Parker's high school principal — as a voice actor for Ultimate Spider-Man, a new animated television series.  Gregg talks about his new role as a voice actor and the future of Agent Coulson to NBC New York.
Though it is his first animated series, Ultimate Spider-Man isn't the first time Gregg has done voice acting.  He explains, "I started a theater company in New York with David Mamet and Bill Macy years ago, and one of the things that Mamet loved was radio plays. We did a bunch of them. I directed one for NPR years ago with he and Felicity Huffman. I've always loved them, but I've never done an animated show before and I always wanted to. I just never thought that it would be as cool as being Principal Coulson and getting to hang out with Aunt May who's kind of hot in Ultimate Spider-Man."
So is Gregg's Coulson set to be Marvel's "good luck charm," like John Ratzenberger for Pixar?  Not if Gregg can help it, because he's pushing for Coulson to get his own movie.  He says, "I've been floating that! It's like a dirigible made of iron. There're a lot of interesting plans for Agent Coulson. So far I don't say stuff. They keep coming to me with interesting stuff, stuff like this. Basically I just wait to hear what crazy thing they're going to come up with next."
Nonetheless, though Gregg has spent the last several years interacting with superheroes it hasn't raised his profile among his daughter.  He admits, "It's funny to have a daughter. If I had a ten-year-old son I think I would be a pretty big guy around the house. But unless I end up in a scene with Taylor Swift in one of these movies it's just getting me no love at my house."
http://www.dailyactor.com/wp-content/uploads/2016/02/david-harewood-supergirl.jpg
David Harewood on 'Supergirl' and How He Was "Struggling to Get a Handle" on His Character
Harewood reveals how he relates to the character and how he eventually got comfortable playing him.
http://www.dailyactor.com/actors-on-acting/david-harewood-supergirlstruggling-to-get-a-handle-on-his-character/
http://www.dailyactor.com/wp-content/uploads/2016/01/Jeff-Daniels.jpg
Jeff Daniels Remembers a Terrible Audition for a Diane Keaton Movie
One actor that knows the ups and downs of the audition process is Jeff Daniels.
http://www.dailyactor.com/actors-on-acting/jeff-daniels-terrible-audition-diane-keaton-movie/
http://www.dailyactor.com/wp-content/uploads/2016/02/Jennifer-Jason-Leigh-The-Hateful-Eight.jpg
Jennifer Jason Leigh on Her First-Ever Oscar Nomination: "It's kind of phenomenal"
"He knew that I could, in his words, 'act the … out of it' and I'm not afraid to take a risk in terms of acting" Jennifer Jason Leigh on Quentin Tarantino
http://www.dailyactor.com/actors-on-acting/jennifer-jason-leigh-oscar-nomination/
http://www.dailyactor.com/wp-content/uploads/2016/02/Forest-Whitaker-Hughie-Broadway.jpg
Forest Whitaker on Making His Broadway Debut in 'Hughie': "His rhythms are starting to invade inside of me"
"I want to get better as an actor, to keep trying to work harder, trying to discover something different" - Forest Whitaker
http://www.dailyactor.com/actors-on-acting/forest-whitaker-broadway-debut-hughie/
http://www.dailyactor.com/wp-content/uploads/2016/02/alicia-Vikander-Ex-machina.jpg
Alicia Vikander on the Her First Trip to L.A. and the Acting Tip 'Ex-Machina' Director Alex Garland Gave Her
"You [get immersed in] a film and of course you think that that is it. And then you go away and you read a new script and you have a new crush" - Alicia Vikander
http://www.dailyactor.com/actors-on-acting/alicia-vikanderacting-tip-ex-machina-director-alex-garland-gave-her/