Chris Colfer Talks 'Glee' and His Screenwriting Debut in 'Struck by Lightning'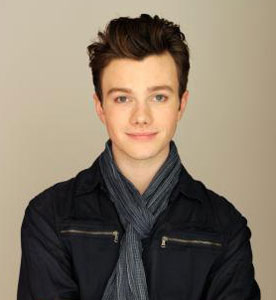 Actor Chris Colfer is famous for playing openly gay high school student, Kurt Hummel, on FOX's Glee.  But it turns out the 21-year-old is not just good at belting out show tunes.  Colfer's new film, Struck by Lightning, just premiered at the Tribeca Film Festival.  He not only stars in the movie, but he also wrote the script about a teenager who starts a literary magazine to impress Northwestern University, and then blackmails his classmates in order to get submissions.
In an interview with NPR, Colfer admitted that he does share some similarities with his character.  He said, "When I was in high school, we had this thing called the senior project where one senior was selected every year to have their own show…All the seniors before me always just did an SNL-like format with a bunch of skits and gags and songs, and I was the only student that ever was like, 'Nope, I'm going to write a show, and we're going to do a full production.'"
However, there is one main difference between the actor and the character he wrote.  Colfer said, "I really wish I could be like that and say exactly what I meant exactly when I felt it and not really give a crap what people thought.  But I was the exact opposite—I really did care a lot what people thought of me.  And I was not as manipulative or as smart and conniving as he is."
Colfer also spoke about an interesting plot device he chose for the movie.  The film is actually told from the main character's point of view after he has died.  The audience learns of his story through flashbacks.  He said, "One of the biggest things I wanted to do is have a character call these people out on their fake grief and mourning.  I mean, how many times are we at someone's funeral and someone speaks at the podium, and we think, 'Oh my God, they're such a liar, they never knew them like I knew them, they weren't as close as they're saying they are.'  I think one of my character's lines in the movie is, 'It's amazing how popular you become once you die.'  I just thought it'd be a great way to tell a story, from the perspective of being dead."
Despite Colfer's foray into film, he is still appreciative of his influential role on Glee.  He said, "I was very nervous about playing a gay character and I kind of went into it knowing I wanted to make him more than just the punching bag that gay characters usually are on TV—the quirky best friend with the bitchy one-liners that we see on almost every other show." 
Colfer was especially proud of his scene in which Kurt comes out to his father.  He said, "It's the most terrifying things kids can ever do in their life, especially at an early age, so I really just wanted to make sure there was a lot of honesty in that scene and it wasn't so forced or arrogant, but it really was just this kid who was terrified of telling his father the truth."
Although Colfer is keeping himself busy, he knows that he's lucky to be having so many opportunities.  He said, "I would love to retire by them time I'm 25, because by then I probably won't be considered relevant anymore and no one is going to care about me.  And I'm very, very well aware that every actor has a shelf life, and I'm just trying to squeeze in as much as I possibly can."
Struck by Lightning will open in wide release later this year.  But you can catch Colfer on Glee on FOX, Tuesdays at 8 PM.
http://www.dailyactor.com/wp-content/uploads/2016/08/Will-Chase-Something-Rotten.jpg
The Role That Got Away: Will Chase on Returning to 'Something Rotten!'
"I know that I am a poor man's fill-in-the-blank. And I know that there are poor man's Will Chases out there. That's just the nature of the business" - Will Chase
http://www.dailyactor.com/actors-on-acting/will-chase-something-rotten-role-that-got-away/
http://www.dailyactor.com/wp-content/uploads/2016/08/Julia-Stiles-Jason-Bourne.jpg
Julia Stiles on the Jason Bourne Series and Growing as an Actress: "There's always room for improvement"
"I like a director that encourages me to be playful. I don't really like being restricted or controlled by a director." - Julia Stiles
http://www.dailyactor.com/actors-on-acting/julia-stiles-growing-as-an-actress/
http://www.dailyactor.com/wp-content/uploads/2016/08/Michael-Kenneth-Williams-The-Night-Of.jpg
Michael Kenneth Williams on How His Roles Impact Him: "That energy's gotta go somewhere"
Since his days of playing Omar on 'The Wire', Williams has learned how to separate himself from his characters.
http://www.dailyactor.com/actors-on-acting/michael-kenneth-williams-the-night-of/
http://www.dailyactor.com/wp-content/uploads/2016/08/margot-robbie-the-wolf-of-wall-street.jpg
Margot Robbie Believed 'The Wolf of Wall Street' Would Ruin Her Career
Many actors can point to a single role that was a career breakthrough -- but not all of them realize that it's a breakthrough as it's happening.
http://www.dailyactor.com/actors-on-acting/margot-robbie-the-wolf-of-wall-street-ruin-her-career/
http://www.dailyactor.com/wp-content/uploads/2016/08/Jonah-Hill-War-Dogs.jpg
Jonah Hill Talks 'War Dogs' and Getting into Character by Listening to Music
"When I started taking acting classes, it was the first time teachers were like, 'You're good and you should keep doing this.'" - Jonah Hill
http://www.dailyactor.com/actors-on-acting/jonah-hill-war-dogs/