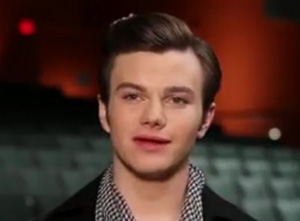 This week, Glee actor Chris Colfer sat with Time Magazine to talk about the nation-wide bullying issue, and how his character is an inspiration to teens across the nation.  Chris told Time: "Its very strange to see how a television show about a bunch of singing and dancing kids, can have such an impact on everyone's lives."  The topic was brought to light because he had mentioned it briefly during his Golden Globe acceptance speech for Best Supporting Actor earlier this year.
During the interview, he also states that "I've tried being other people, but being myself just suits me best."
Colfer, has definitely made his way into the hearts of America.  The 20 year old actor was just placed into Time Magazine's 100 Most Influential People List.  Here he joins the ranks of Hilary Clinton, Oprah Winfrey and Barack Obama.
When he's not singing and dancing on the hit show, he is writing.  Colfer just inked a deal with the Disney Channel for a new pilot he's writing titled "The Little Leftover Witch."  The story is based on a hit children's book about Felina, a witch who is taken in by the Doon family after her broomstick gets busted.
The Disney pilot isn't the actor's first screenplay.  Chris also penned a coming-of-age indie comedy titled "Struck By
Lightning" in which the actor will star.  David Permut ("Youth in Revolt," "Face/Off") is also attached to the script as well.  The comedy will begin shooting this summer while Glee is on hiatus.
I think we can expect a lot from this young actor, and we're excited to see what he's going to do next!