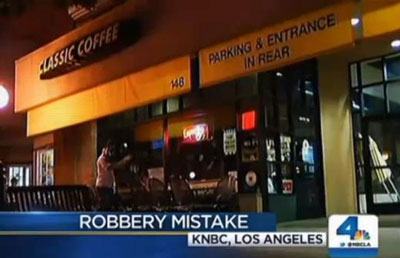 Though most places require permits when shooting television and film productions, back in my film school days we'd often easily get by shooting scenes quickly and on-the-fly without doing all the paperwork (and paying the expensive permit fees).  Starving artists have to do what starving artists have to do, right?
Then again, if your guerrilla film shoot involves real-looking prop guns and a robbery, you just want to make sure you get that paperwork all squared away, right?  Because a recent student film shoot in southern California nearly turned deadly when cops responded to what they believed to be a robbery in progress.
An eyewitness, Linda Bergslian, contacted police at 7:19 AM Thursday, August 1 when she saw a masked man carrying what appeared to be an assault rifle at the Classic Coffee shop in Glendora.  Eight police officers in the area arrived on the scene and surrounded the coffee shop.  They ordered two men carrying authentic-looking guns — one rifle and one pistol — to drop their weapons, which were actually pellet guns.  The actor holding the rifle followed their instructions, but the pistol-packing actor did not.  However, he did not move and cops later admitted that had he moved he would have probably been shot by police.
Thankfully one of the cops noticed a camera rolling and asked if that was the reason behind the "robbery."  Everything was soon squared away with no one getting hurt.  They were not charged.
Capt. Tim Staab of the Glendora Police Department later said, "These college students didn't realize just how close they were to getting killed. Thank God that this didn't go sideways…It was miliseconds away from being a true tragedy."
Of course, that leaves me with one question:  what kind of coffee shop would allow students to shoot such a film during the morning rush?