Aubrey Plaza on Breaking into the Industry: "I was very delusional"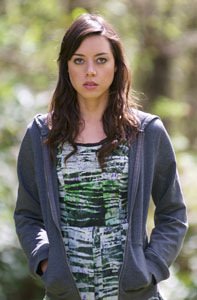 Aubrey Plaza is famous for her deadpan delivery as April Ludgate on NBC's Parks and Recreation.  The 27-year-old will also be starring in her first leading role in the new indie Safety Not Guaranteed, which will be opening in limited release in June.
In an interview with Vulture, Plaza admitted that her foray into acting was a little unconventional.  At 15, she enrolled at ComedySportz in Philadelphia.  She said, "It was me and a bunch of librarians trying to find themselves." 
She went to NYU for undergraduate studies so she could study at the Upright Citizens Brigade Theatre.  Plaza said, "I was very delusional.  Growing up, I really believed it was going to happen for me.  They say what you put out into the universe comes back to you.  Also, I'm just a crazy person."
Plaza got her role on Parks and Recreation almost immediately after coming to LA for some meetings.  But she doesn't necessarily relate to her character.  She finds it strange that "deadpan is, like, my thing.  I was never sarcastic or petulant.  In high school, my superlative wasn't Most Likely to Hate the World."
But Plaza has learned to embrace the cynicism she's become known for.  She said, "There's definitely an ironic culture that emerged in the past couple of years, and I'm very much a part of that, maybe even a face of it.  So it's interesting that I'm in a movie that's combating sarcasm and how everyone's making fun of everything."
http://www.dailyactor.com/wp-content/uploads/2016/02/alicia-Vikander-Ex-machina.jpg
Alicia Vikander on the Her First Trip to L.A. and the Acting Tip 'Ex-Machina' Director Alex Garland Gave Her
"You [get immersed in] a film and of course you think that that is it. And then you go away and you read a new script and you have a new crush" - Alicia Vikander
http://www.dailyactor.com/actors-on-acting/alicia-vikanderacting-tip-ex-machina-director-alex-garland-gave-her/
http://www.dailyactor.com/wp-content/uploads/2016/02/Channing-Tatum-Hail-Caesar.jpg
Channing Tatum Talks 'Hail, Caesar!': "I've been beating on the Coens' door for years, man"
"It's the most I've ever prepped for a six-minute section in a movie." - Channing Tatum
http://www.dailyactor.com/actors-on-acting/channing-tatum-hail-caesar-tap-dancing/
http://www.dailyactor.com/wp-content/uploads/2016/01/Isidora-Goreshter-Shameless-audition.jpg
Isidora Goreshter Remembers Her Audition for 'Shameless'
Goreshter recently recalled that her audition for the 'Shameless' was by far her worst ever.
http://www.dailyactor.com/actors-on-acting/isidora-goreshter-audition-for-shameless/
http://www.dailyactor.com/wp-content/uploads/2016/01/Sutton-Foster-Younger.jpg
Sutton Foster: "Sometimes I won't even find a character until I put on the costume"
"I never had grand aspirations to be a movie star, to be famous or to be on TV. The theater was what I wanted." - Sutton Foster
http://www.dailyactor.com/actors-on-acting/sutton-foster-younger-character-costume/
http://www.dailyactor.com/wp-content/uploads/2016/01/Paul-Giamatti-Billions.jpg
Paul Giamatti on Building His Career: "I was always willing to just go, 'OK, sure, I'll do that'"
"I've done everything an actor can do except porn and performing in an amusement park" - Paul Giamatti
http://www.dailyactor.com/actors-on-acting/paul-giamatti-billions-building-an-acting-career/