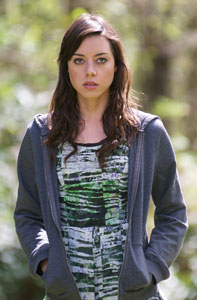 Actor, writer, and comedian Aubrey Plaza is quickly becoming one of her generation's brightest young talents.
Plaza currently stars in the NBC comedy series Parks and Recreation as 'April Ludgate,' 'Ron Swanson's' underachieving assistant. The series, from the creators of The Office, is a half-‐hour mockumentary that looks at the world of local government. Amy Poehler and Rashida Jones co-‐star. The show was just nominated for an Emmy in the "Best Comedy Series" category and will return for a fourth season in September.
She will next begin production on Roman Coppola's new film A Glimpse Inside the Mind of Charlie Swan III. The independent film produced by Youree Henley stars Charlie Sheen as the title character, a successful graphic designer whose fame, money and charm have made him irresistible to women. When his girlfriend breaks up with him, his life swirls into a downward spiral of doubt, confusion and reflection. Through delirious fantasies involving his many failed romances, he begins the hard road of self-‐evaluation to come to terms with life without her. Plaza will play Marnie, a producer who works with the protagonist at his company, Swan Design.
She will next be seen starring in the The Handjob as a high-‐school grad who makes it her mission to gain more sexual experience before heading off to college. Written and directed by Maggie Carey, the film is being touted as the female version of Superbad. Bill Hader, Andy Samberg, and Rachel Bilson co–‐star.
Plaza will also be seen in Jamie Linden's Ten Year opposite Channing Tatum. Plaza plays the role of 'Olivia,' the wife of Brian Geraghty's character. When the couple goes to his ten-‐year reunion, Olivia realizes that he is a very different person than he was in high school and that she doesn't know as much about him as she had initially thought. The film also stars Rosario Dawson, Justin Long, Kate Mara, and Lisa Kudrow. The film premiered at the 2011 Toronto Film Festival and will be released spring 2012.
Plaza will also be seen in Sony Pictures Classics' Damsels in Distress, director Whit Stillman's first film since 1998's The Last Days of Disco. Greta Gerwig and Adam Brody will star. The film will be released in spring 2012.
Plaza was recently seen as a guest star in the new IFC comedy Portlandia, an original comedy series that illustrates the people and values of Portland, Oregon and stars Fred Armisen of Saturday Night Live and Carrie Brownstein from the Portland band Sleater-‐Kinney.
Plaza was last seen in Edgar Wright's action-‐comedy Scott Pilgrim vs. The World with Michael Cera, Jason Schwartzman, and Chris Evans. The film is an adaptation of the critically acclaimed, award-‐winning series of graphic novels by Canadian cartoonist Bryan Lee O'Malley. 'Scott Pilgrim' (Cera) is a wannabe–‐rockstar who must defeat his new girlfriend's seven evil ex-‐boyfriends in order to win her heart. Aubrey stars as 'Julie Powers,' an obnoxious antagonist to 'Scott.'
Plaza was seen on-‐screen in Judd Apatow's Funny People starring opposite Adam Sandler, Leslie Mann, and Seth Rogen. The film follows a seasoned comedian who takes an up-‐and-‐coming performer under his wing when he has a near-‐death experience. Plaza played 'Daisy,' the love interest for Rogen's 'Ira.'
Her additional credits include the hit online series The Jeannie Tate Show, ESPN's original web series Mayne Street, as well as a guest-‐appearance on 30 Rock. Plaza has been performing improv and sketch comedy at the Upright Citizens Brigade Theater since 2004.
Originally from Wilmington, Delaware, Plaza is a graduate of New York University's Tisch School of the Arts. She currently resides in Los Angeles.
 This biography/filmography of Aubrey Plaza is courtesy of the film, Safety Not Guaranteed.