English Actor Disappears Minutes Before His Show's Debut Performance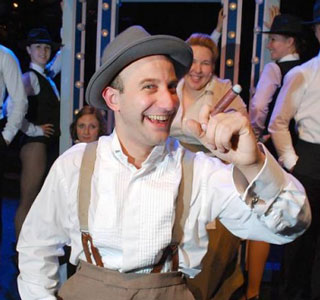 Stage fright is very common — even the most comfortable stage veterans get the live performance jitters.  Having anxiety before taking the stage is one thing, but English actor Ben Stirling took stage fright to a whole new level earlier this month, according to the Daily Mail.
Stirling was all set to star as American entertainer Jimmy Durante in the new musical Goodnight Mrs Calabash at the Gatehouse Theatre in Highgate, London when he went for what he said was a bathroom break an hour before showtime.  However, Stirling neglected to tell his fellow cast members that the bathroom he was heading for was apparently his mother's in Scotland.  When the cast went to find Stirling fifteen minutes later, he was long gone!
With such little time before the play began, the producers were forced to cancel the performance and turn away the approximately sixty people in the audience with refunds. 
John Plews, artistic director of Upstairs at the Gatehouse, admits that he felt conflicted about the situation, saying, "At first we felt sorry for Ben because he obviously had a problem, but then we felt really angry because he had let down so many people."  In all, the production was canceled for eight days.
Stirling is no newcomer to theatre, having recently appeared in worldwide tours of Fame and Jesus Christ Superstar, and the producers invested £350 in having a fake nose custom made for Stirling to play Durante, who was famous for his distinctively large nose.  Unfortunately, no one else is able to wear the custom-made prosthetic, although actor Tim Frost has stepped up to replace Stirling in the show.  Frost learned the entire part — including fifteen songs — in just four days.
There's no word on exactly why Stirling flew the coop — Plews admits they have not had contact with him — but beyond hoping that he is mentally all right I think it's fair to say it will be a long time before anyone offers him a theatrical role again. 
http://www.dailyactor.com/wp-content/uploads/2016/04/Christine-Baranski-The-Good-Wife.jpg
Christine Baranski on the End of 'The Good Wife' and Going Back to Theatre
The final episode of The Good Wife airs on May 8, and it's been several weeks since series star Christine Baranski shot the final episode with her co-stars. She spoke to The Hollywood Reporter about the end of the series she has spent the last seven years working on and what she plans to do […]
http://www.dailyactor.com/actors-on-acting/christine-baranski-the-good-wife-theatre/
http://www.dailyactor.com/wp-content/uploads/2016/04/jake-gyllenhaal-demolition.jpg
Jake Gyllenhaal on 'Demolition', Working with Chris Cooper and Directors Who Want Nothing to Do With Him
"I think storytelling is the most important part of movie-making over performance." - Jake Gyllenhaal
http://www.dailyactor.com/actors-on-acting/jake-gyllenhaal-demolition-chris-cooper/
http://www.dailyactor.com/wp-content/uploads/2016/04/don-cheadle-miles-davis.jpg
Don Cheadle: "Be scared. Be on the edge of your creativity"
"Be willing to fall flat on your face and be in an unknown place. If you're doing that, you're probably growing" - Don Cheadle
http://www.dailyactor.com/actors-on-acting/don-cheadle-scared-creativity/
http://www.dailyactor.com/wp-content/uploads/2016/04/jessie-eisenberg-louder-than-bombs.jpg
What is Jesse Eisenberg's "Most Fulfilling Acting Experience"?
"My absolute favorite thing to do is to write a play and then, after I finish, do the first reading of it with my friends around the table"- Jesse Eisenberg
http://www.dailyactor.com/actors-on-acting/jesse-eisenberg-most-fulfilling-acting-experience/
http://www.dailyactor.com/wp-content/uploads/2016/03/Lupita-Nyong'o-eclipsed.jpg
Lupita Nyong'o on Her Broadway Debut: "When we get up on that stage, you do not know what will happen"
"I think theater offers a chance to flex muscles that then only help to sustain cinematic work." - Lupita Nyong'o
http://www.dailyactor.com/actors-on-acting/lupita-nyongo-eclipsed-broadway/