English Actor Disappears Minutes Before His Show's Debut Performance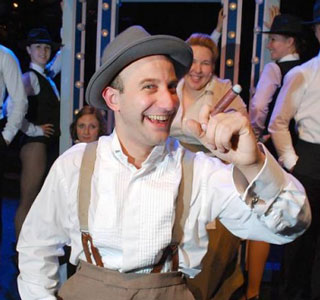 Stage fright is very common — even the most comfortable stage veterans get the live performance jitters.  Having anxiety before taking the stage is one thing, but English actor Ben Stirling took stage fright to a whole new level earlier this month, according to the Daily Mail.
Stirling was all set to star as American entertainer Jimmy Durante in the new musical Goodnight Mrs Calabash at the Gatehouse Theatre in Highgate, London when he went for what he said was a bathroom break an hour before showtime.  However, Stirling neglected to tell his fellow cast members that the bathroom he was heading for was apparently his mother's in Scotland.  When the cast went to find Stirling fifteen minutes later, he was long gone!
With such little time before the play began, the producers were forced to cancel the performance and turn away the approximately sixty people in the audience with refunds. 
John Plews, artistic director of Upstairs at the Gatehouse, admits that he felt conflicted about the situation, saying, "At first we felt sorry for Ben because he obviously had a problem, but then we felt really angry because he had let down so many people."  In all, the production was canceled for eight days.
Stirling is no newcomer to theatre, having recently appeared in worldwide tours of Fame and Jesus Christ Superstar, and the producers invested £350 in having a fake nose custom made for Stirling to play Durante, who was famous for his distinctively large nose.  Unfortunately, no one else is able to wear the custom-made prosthetic, although actor Tim Frost has stepped up to replace Stirling in the show.  Frost learned the entire part — including fifteen songs — in just four days.
There's no word on exactly why Stirling flew the coop — Plews admits they have not had contact with him — but beyond hoping that he is mentally all right I think it's fair to say it will be a long time before anyone offers him a theatrical role again. 
http://www.dailyactor.com/wp-content/uploads/2016/06/jeff-bridges-hell-or-high-water.jpg
Jeff Bridges on Creating a Character, 'Hell or High Water' and Playing The Dude
"I use elements of myself—I see my parallels with a character—and find similar things in my own personality." - Jeff Bridges on Creating a Character
http://www.dailyactor.com/actors-on-acting/jeff-bridges-creating-a-character/
http://www.dailyactor.com/wp-content/uploads/2016/07/benjamin-bratt-actor.jpg
Benjamin Bratt: "For as limiting as the opportunities are for actors and actresses of color I've been very blessed"
"...it's dangerous to keep going down the same artistic path." - Benjamin Bratt
http://www.dailyactor.com/actors-on-acting/benjamin-bratt-ive-been-very-blessed/
http://www.dailyactor.com/wp-content/uploads/2016/07/watch-keegan-michael-key-explain.jpg
Watch: Keegan-Michael Key Explains Why "Improv actors are at war together"
Check out Key's points on why it's so important for improv actors to have each others' backs in the clip above.
http://www.dailyactor.com/actors-on-acting/keegan-michael-key-improv-actors-at-war-together/
http://www.dailyactor.com/wp-content/uploads/2016/07/norman-reedus-actor.jpg
Norman Reedus on Acting: "If it's something you really want, you have to roll with the rejection"
Norman Reedus is a fan-favorite star on The Walking Dead and was in the cult favorite film The Boondock Saints. However, in the dozen years between those two gigs Reedus had experienced ups and downs in his career and in many cases he was cast in very small roles in big movies or lead roles […]
http://www.dailyactor.com/actors-on-acting/norman-reedus-acting-rejection/
http://www.dailyactor.com/wp-content/uploads/2016/07/frank-grillo.jpg
Frank Grillo on Being Typecast: "I welcome it"
"I hear actors pooh-pooh the idea... people might see them as a certain thing. I welcome it" - Frank Grillo on Typecasting
http://www.dailyactor.com/actors-on-acting/frank-grillo-on-typecasting/