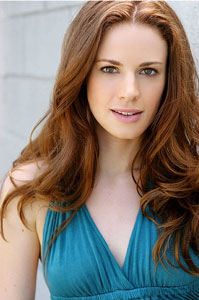 Fans of Wicked need no introduction to Teal Wicks. 
In 2007, she was cast as the standby for Elphaba in the LA production of the hit musical and after playing the role several times, she finally took over in May 2008. From there, she reprised the part in the San Francisco run and then made her Broadway debut in the role last year. Audiences loved her Elphaba so much that in an online poll, fans voted her as their "Favorite Elphaba."
After appearing in The Blue Flower at Second Stage and Carousel at Goodspeed Opera House in Conneticut, Teal is now taking on Jekyll and Hyde. She plays Emma Carew in the upcoming 25-week National Tour of the Broadway bound musical.
The show, which also stars Tony Award nominee Constantine Maroulis (in the dual title role of Dr. Jekyll and Mr. Hyde) and Grammy-nominated R&B superstar Deborah Cox as Lucy, follows the classic story of Dr. Henry Jekyll and his evil alter-ego, Mr. Hyde.
After the tour, the production will open on Broadway in the spring of 2013.
I talked to Teal when she was in heavy rehearsal for the show and she was so energetic and fun and we had a perfect conversation. In the interview, we chatted about Jekyll and Hyde, Wicked, how she got her start and her advice to actors.
The Nation Tour begins in San Diego on October 2nd. Other upcoming cities include Houston, Tampa, Buffalo, Charlotte. For tickets and more info: Jekyll and Hyde The Musical 

You just finished up Carousel, right?
Teal Wicks: Yes. Yeah. Yeah, I did. I was in Connecticut doing that.
Did you get any down time before you started rehearsals for this?
Teal Wicks: No. No. I didn't. I did my last show in Connecticut and started rehearsals the next day. 9am rehearsals the next day. Yeah. Kind of my life. That's what we do.
It's such a blessing to have shows, like have the work run into other work. It is a burden that I will happily, happily take on.
When did you audition for this show? Because you have been working constantly.
Teal Wicks: Yeah, I mean, that's what I… I have time off this was earlier in the year. I think in the spring… I think. But I'm pretty sure that my first audition was early spring this year.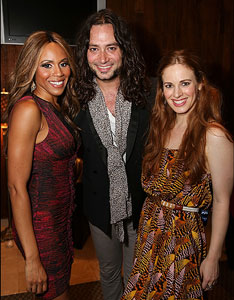 How did you get the part? Was this the part that you had wanted?
Teal Wicks: I know that we heard about the production and my agent said the producers were bringing people in and looking at people for Emma and I was on their list of people to see and so I said yeah. And so I just went in and we had a really good time in the audition room, it worked out, and then they wanted me.
What was your audition like?
Teal Wicks: I think they gave me 3 songs… or, they gave me 2 songs and 2 scenes. So I prepared those as best as I could. Luckily I… the songs I sort of knew because the show and its music, I've known. I've known it, I've heard it, I've heard it in school where people were singing it, I've heard it out everywhere. So I was sort of familiar with the music and so I just learned it as best I could and had to memorize the scenes and… yeah.
And this time it wasn't too much material for me. I know some of our cast members that are in the ensemble in more featured roles and also people that understudy the big roles, I think they had huge chunks to memorize. So they were auditioning for ensemble and then also auditioning for the cover for Poole or the cover for Lucy or the cover for Emma. So it's a lot, that's a lot of material.
You were in Wicked for a while before you made your Broadway show, your Broadway debut.  You had done the part a couple hundred times I would imagine. Were you nervous when you first stepped onto that Broadway stage?
Teal Wicks: Oh my goodness. I was… I wasn't… I was really excited and really happy and kind of emotional about… no, I was totally emotional about it. I was like, you know, it was my first time on a Broadway stage. It's crazy. It was really exciting.
I wasn't super nervous, I think because I had done the role so many times that I felt really comfortable with it and the timing was right. I mean, I sort of by that point had felt like I'd really made my mark on the character and really flushed out everything, so it's fun to get to go do it on the biggest stage of all.
Yeah, so I was just excited and giddy and emotional and probably shaking a little bit, but… on the verge of tears throughout all of it because I was so happy, so it was all of that.
How'd you get your start?
Teal Wicks: I really love theater and when I was young I loved singing and dancing and I just kind of dabbled in a little bit of community theatre in my town growing up.
What the first show you did there?
Teal Wicks: My first show I did it actually during the kind of community theatre sort of review that we did, it was called The Best of Broadway that a lot of the Sacramento… almost anybody and everybody that grew up in Sacramento, California. Almost anybody who liked theatre, dabbled in theatre, in Sacramento would get together and every year they would put out this show called The Best of Broadway that was basically the best of Broadway. So they would just… every year they would pick different shows and songs that they wanted to use and just kind of put little skits and do little staging and have probably like 30, 40 different songs and numbers from any and all musicals. So that was my… that's how I started. It was really fun.
I learned so many songs and got kind of familiar with the whole Broadway musical theatre songbook I think through that doing that show. I did that a couple years. I probably did that 4 or 5 years when I was in Sacramento. It was fun. Every year since I was older I could do more… I would get more into the adult numbers. Not adult numbers, but I started, you know, as sort of a kid and then you joined in the teen numbers and then you go into the teen almost adult numbers and so it was fun.
So from there did you go to… you went to college?
Teal Wicks: Yes, yeah. I went to UC Irvine. I loved it. And I studied drama and sort of… yeah. Did it and figured I was good enough at it and kept on doing it. I loved school, I learned so much at school.
And we had this great program that we would come to New York for a month, study, to do a really intense New York study thing and just, you know, see as many shows as we could, run around New York like crazy kids, and I fell in love with New York so I knew when I graduated college that I wanted to move here.
And it was great and also on that program we got to do auditions. If we had time in our schedule we could go to any chorus halls that we wanted to or anything. So I went to a few auditions to get kind of an idea of what New York was like. I didn't book any jobs, but I got a lot of good feedback.
It was very encouraging, yeah.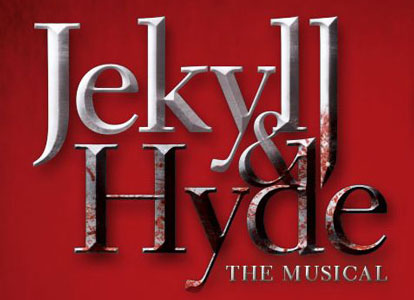 What's your advice to actors?
Teal Wicks: Ok, what's my advice. My advice is… I'm trying to think of something that's not like cheesy and everybody says.
My thing is I try to embrace everything and be as multifaceted and varied as I can be in everything. Try to study. I try to read plays and try to keep up with what the new musicals are and new writers and old writers and try to keep all of that in… at least sort of in my mind and just kind of in my senses so that it's easier to pull some stuff when it comes to auditioning so you're not just completely out of your element.
And I guess also not to be scared of challenging things and not to be afraid to fail. Because for me, in my experience, I'm kind of a timid person. Just in everyday life I'm kind of a mellow laid back person. I've learned to not be as quiet and when I have questions to be vocal about them and not scared to ask and not be scared to take risks and do things that are a little scary because some of the times when I've taken big risks, I've really been rewarded for them and learned a lot the times that I've really messed up and done really stupid stuff. But in our world of, you know, trying to get a job, we're always auditioning and even when you don't get the jobs, I feel like I went into the room and did interesting stuff and made choices and really achieved some sort of goal whether it be trying to take some risks that I usually wouldn't. At least at the end of the day I've been proud that I've taken those steps and grown a little bit in that.