As a recent Reuters article explains, the line between Broadway shows and feature films is beginning to become blurred. Showings of current Broadway productions, musical Memphis and the revival of Oscar Wilde's classic The Importance of Being Earnest, are now enjoying runs in movie theaters all across the United States.
Now possible due to many theaters' ability to show high-definition video, these broadcasts also meet a growing demand for alternative content, according to the article.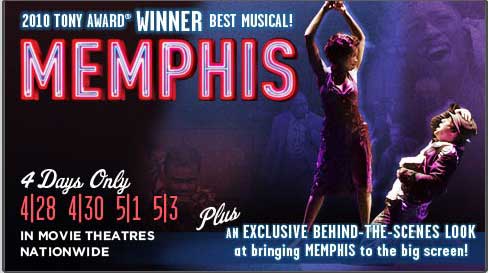 Memphis will be shown on 600 screens nationwide from April 28 to May 3, with four showings at each. Meanwhile, Earnest will be screened at many theaters internationally from June 2 until June 28.
"We thought it would be a great marketing tool, particularly for the road, and we were enamored of the idea of capturing the original company," Memphis co-producer Sue Frost is quoted as saying.
"We do feel that when people see it that it will translate well," said Earnest managing director Harold Wolpert. "That's very, very important to us. Our bottom line is not just financial, but aesthetic as well."
When you consider that seeing a Broadway show in a movie theater rather than a repertory theatre allows for close-up footage and costs significantly less, it's probably a better deal. Plus, how many playhouses sell jumbo popcorn?
You can read Reuters' article here.