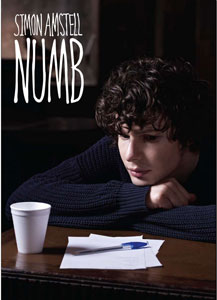 Every generation has its pop culture purists, the ones who "discover" an artist before they are famous. When they're Green Day fans, you laugh – but when you're the connoisseur in question, sharing your niche love can be difficult.
Brace yourselves, comedy cognoscenti: British stand-up comedian Simon Amstell is bringing his show to New York. "Numb" will make its U.S. debut Tuesday night at Theater 80 in St. Marks Place, kicking off a five-week run. Tickets can be purchased for $20 here.  
In addition to his stand-up, Amstell is known for co-writing and starring in BBC Two mini-series "Grandma's House" and for hosting pop music quiz show "Never Mind the Buzzcocks."
He discusses both in a recent Time Out New York interview:
TONY: Your relatively brash persona on Never Mind the Buzzcocks is so different from both the gentler tone of Grandma's House and your stand-up. Is this a progression or a regression?
SA: When I was growing up, it wasn't my dream to host that show. But I really enjoyed being that cheeky, naughty guy in this celebrity world, and I feel I had said all I had to say about it. When I stopped doing that, I really wanted to draw a line, but it is quite fun to be that guy occasionally. I want to sort of reintroduce him a bit to my current personality. That sounds insane! "Reintroduce him to my current personality." Oh, God! 
"Do Nothing" (2010):
[youtube https://www.youtube.com/watch?v=MYakr-Un7to&w=560&h=315%5D
 
"Grandma's House," Series 1:
[youtube https://www.youtube.com/watch?v=OUbCRb1a0ZY&w=560&h=315%5D