Dan Stevens, Star of 'Downtown Abbey,' To Make His Broadway Debut in 'The Heiress' Opposite Jessica Chastain & David Strathairn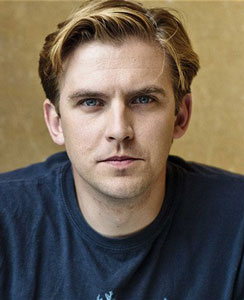 Dan Stevens, star of the Golden Globe-winning series Downton Abbey, will play the role of "Morris Townsend" opposite Academy Award® nominee Jessica Chastain and Academy Award® nominee and Emmy® Award winner David Strathairn in the Tony Award®-winning play The Heiress.
"I couldn't ask for a more exciting Broadway debut: to work on such a fascinating play, with such fantastic actors as Jessica Chastain and David Strathairn and one of Broadway's great directors, Moisés Kaufman," said Stevens. "I can't wait to get started."
Stevens is currently shooting season three of Downton Abbey. On stage, his credits include the lead role of "Septimus Hodge" in David Leveaux's hit West End production of Tom Stoppard's Arcadia, and the "Doctor" in Tom Stoppard and André Previn's Every Good Boy Deserves Favour at the National Theatre.
He has worked frequently with Sir Peter Hall on productions including The Vortex (West End), Hay Fever (Haymarket Theatre), Much Ado About Nothing and As You Like It which earned him an Ian Charleson Award nomination which is the British theatrical award to reward the best classical stage performances in Britain by actors aged under 30. 
Upcoming films include British independent Summer in February in which he stars alongside Dominic Cooper and Emily Browning and which he also executive-produced and Amy Heckerling's Vamps with Alicia Silverstone, Krysten Ritter and Sigourney Weaver (due out in Autumn 2012).
Written by Ruth Goetz & Augustus Goetz, The Heiress will be directed by Tony Award® nominated playwright and director Moisés Kaufman. Performances will begin October 2012 at a theatre to be announced.
http://www.dailyactor.com/wp-content/uploads/2016/06/jeff-bridges-hell-or-high-water.jpg
Jeff Bridges on Creating a Character, 'Hell or High Water' and Playing The Dude
"I use elements of myself—I see my parallels with a character—and find similar things in my own personality." - Jeff Bridges on Creating a Character
http://www.dailyactor.com/film/jeff-bridges-creating-a-character/
http://www.dailyactor.com/wp-content/uploads/2016/07/benjamin-bratt-actor.jpg
Benjamin Bratt: "For as limiting as the opportunities are for actors and actresses of color I've been very blessed"
"...it's dangerous to keep going down the same artistic path." - Benjamin Bratt
http://www.dailyactor.com/film/benjamin-bratt-ive-been-very-blessed/
http://www.dailyactor.com/wp-content/uploads/2016/07/watch-keegan-michael-key-explain.jpg
Watch: Keegan-Michael Key Explains Why "Improv actors are at war together"
Check out Key's points on why it's so important for improv actors to have each others' backs in the clip above.
http://www.dailyactor.com/videos/keegan-michael-key-improv-actors-at-war-together/
http://www.dailyactor.com/wp-content/uploads/2016/07/norman-reedus-actor.jpg
Norman Reedus on Acting: "If it's something you really want, you have to roll with the rejection"
Norman Reedus is a fan-favorite star on The Walking Dead and was in the cult favorite film The Boondock Saints. However, in the dozen years between those two gigs Reedus had experienced ups and downs in his career and in many cases he was cast in very small roles in big movies or lead roles […]
http://www.dailyactor.com/actors-on-acting/norman-reedus-acting-rejection/
http://www.dailyactor.com/wp-content/uploads/2016/07/frank-grillo.jpg
Frank Grillo on Being Typecast: "I welcome it"
"I hear actors pooh-pooh the idea... people might see them as a certain thing. I welcome it" - Frank Grillo on Typecasting
http://www.dailyactor.com/film/frank-grillo-on-typecasting/