Shia LaBeouf Posts More E-Mails Related to His 'Orphans' Exit
I know it's not a very well-kept secret, but isn't it sort of fascinating that actors often treat each other like they're in middle school?  Not only do they have arguments over e-mail, but as in the case of Shia LaBeouf and the behind-the-scenes saga of his exit from his intended Broadway debut Orphans, LaBeouf has no issue with posting these e-mails on Twitter to prove… something.
Alec Baldwin, who LaBeouf was supposed to co-star with, responded to LaBeouf's Twitter comment that, "The theater belongs not to the great but to the brash," by pointing out that LaBeouf has never done theater and shouldn't comment on it (he also compared LaBeouf to a "celebrity chef" rather than a real chef.)  Seemingly in response, LaBeouf has posted another set of e-mails revealing that Baldwin and LaBeouf didn't even get off on the right foot.
These e-mails, most of which are from February 10, reveal an e-mail conversation between Baldwin and LaBeouf, with Baldwin telling LaBeouf, "We start Monday [February 11th]. But I'm so fucking tired."  LaBeouf responds, "im a hustler i don't get tired im 26 chief."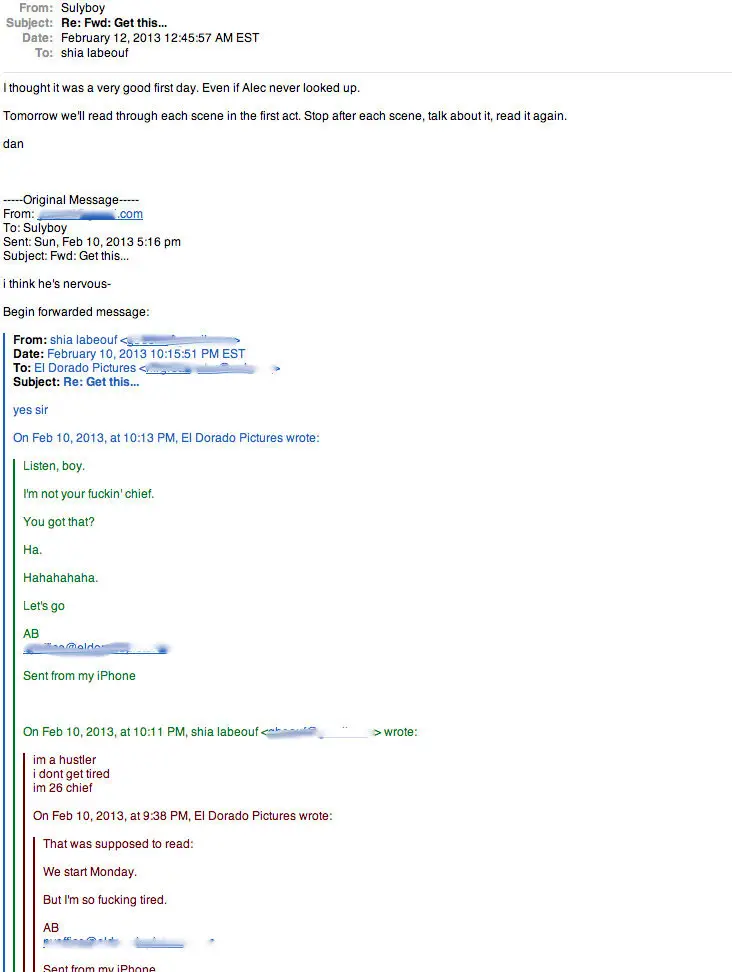 Being an e-mail conversation (and a badly punctuated one, at least on LaBeouf's end), I can definitely see that response as being some kind of cocky putdown, even if that was not the intention. But Baldwin seems to have taken it that way and replied with a clearly Baldwin-ish retort, "Listen, boy. I'm not your fuckin' chief. You got that?" Of course, he followed it with a series of "Ha" (which we all know makes everything said in online arguments a joke that people can't get mad at, right?).  LaBeouf then apparently forwarded the e-mail to Orphans director Daniel Sullivan noting, "i think he's nervous."
Sullivan followed up with an e-mail to LaBeouf that said, "Don't be too surprised if Alec doesn't look up from his script much for the first few days. I suspect he's not nearly as prepared as you are. Not unusual at all when actors have a good long rehearsal time like we have. I just don't want it to throw you."  He later added, "I did a reading of another play once with Alec and about 10 minutes in I thought, 'Oh, I guess he's just going to read it.'"  Obviously this looks like criticism, but though I'm no expert at most readings of plays I've usually seen actors just reading the play.  Hence, you know, why it's called a "reading." As Sullivan pointed out himself — not unusual at all.
The final e-mail posted, this one from February 12, is again from Sullivan to LaBeouf and says, "I thought it was a very good first day. Even if Alec never looked up."  The tweet sent has only one word, "chef," which is a clear reference to Baldwin's response to LaBeouf and seems to suggest that Baldwin is no metaphorical chef himself… I think.
Frankly, I'm not sure what LaBeouf is trying to prove with releasing these e-mails.  Does he thinks they make Baldwin look bad or unprofessional because he was reading his lines during the first script reading?  Does he think it makes him some acting prodigy because he says he is a "hustler" who does get tired?  I can't help but wonder what Sullivan feels about being publicly exposed like this.
Keep in mind that we're only seeing e-mails sent directly to LaBeouf telling him how wonderful he is and how difficult Baldwin is.  We really have no idea what Sullivan was saying to Baldwin and others yet, and who knows if Sullivan was only trying to build LaBeouf's confidence while airing his concerns about LaBeouf's attitude with others involved in the production.

It all seems very childish to me and a huge distraction from what ought to be a great production, now with Ben Foster making his Broadway debut in the role LaBeouf was supposed to play.  Regardless, previews for Orphans begin March 19 and opening night is on April 7 at the Schoenfeld Theatre (236 W. 45th Street).  Now, the only question remains is whether or not Foster is "hustler" enough to pull the performance off!
Latest Videos
http://www.dailyactor.com/wp-content/uploads/2014/10/alex-sharp-curious-incident-of-the-dog.jpg
Alex Sharp Talks About His Broadway Debut in 'The Curious Incident of the Dog in the Night-Time' (video)
Alex Sharp went from working in a call-center and renovating houses to going to Julliard. And now, he's starring in one of the most talked about shows of the season, The Curious Incident of the Dog in the Night-Time. Check out this great, inspiring video!
http://www.dailyactor.com/2014/10/alex-sharp-broadway-debut-the-curious-incident-of-the-dog-in-the-night-time-video/
http://www.dailyactor.com/wp-content/uploads/2014/10/Its-only-a-play.jpg
Watch a Scene From Terrance McNally's, 'It's Only a Play', Featuring Nathan Lane and Micah Stock
Here's a quick scene from Terrance McNally's It's Only a Play, currently on Broadway at the Schoenfeld Theater. In this scene, Nathan Lane and Micah Stock meet for the first time. The show, about the opening night of a new play, also stars Matthew Broderick, Stockard Channing, F. Murray Abraham, Rupert Grint and Megan Mullally.
http://www.dailyactor.com/2014/10/watch-a-scene-terrance-mcnally-its-only-a-play-nathan-lane-micah-stock/
http://www.dailyactor.com/wp-content/uploads/2014/10/birdman-director-alejandro-g-ina.jpg
'Birdman' Director Alejandro G. Iñárritu Narrates a Scene from the Film Featuring Michael Keaton and Edward Norton
Director Alejandro G. Iñárritu narrates a scene from Birdman or The Unexpected Virtue of Ignorance that features stars Michael Keaton and Edward Norton. The film is wonderful and if it's playing in your town, definitely check it out!
http://www.dailyactor.com/2014/10/birdman-director-alejandro-g-inarritu-michael-keaton-edward-norton/
http://www.dailyactor.com/wp-content/uploads/2014/10/the-cast-of-mad-men-on-the-final.jpg
The Cast of 'Mad Men' on the Final Season and More
Though the AMC television series Mad Men might not carry the same cultural weight that it did a few years ago (splitting your final season over two years might do that to you), the second half of the show's final season is expected to be full of powerful performances from its ensemble cast. With the […]
http://www.dailyactor.com/2014/10/cast-of-mad-men-final-season/
http://www.dailyactor.com/wp-content/uploads/2014/10/behind-the-scenes-of-a-sex-scene.jpg
Behind the Scenes of a Sex Scene with Patrick Wilson, Brooklyn Decker and Director Joe Carnahan
Director Joe Carnahan is giving viewers an inside look at what it is like to film a big screen Hollywood sex scene, as confirmed by Gawker. Carnahan released a brief video clip taken from the set of his latest film Stretch starring supermodel and actress Brooklyn Decker and Patrick Wilson. The video showcases the two […]
http://www.dailyactor.com/2014/10/behind-the-scenes-of-a-sex-scene-patrick-wilson-brooklyn-decker-director-joe-carnahan/