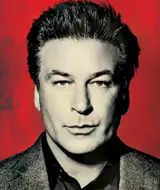 Alec Baldwin is probably the best example of a celebrity I can think of who I think is insanely talented but I certainly wouldn't want to be friends with.  But one thing I will always give Baldwin is that he isn't afraid to speak his mind — even if what comes out isn't always appropriate.
But I can't fault him for going off on Shia LaBeouf's Twitter comment about theater acting, "The theater belongs not to the great but to the brash."  The comment was made in the wake of his bizarre exit from his intended Broadway debut alongside Baldwin in Orphans.  Though in that behind-the-scenes exchange Baldwin wrote LaBeouf an e-mail saying, "I don't have an unkind word to say about you. You have my word," that "word" clearly doesn't apply to what LaBeouf has to say about acting for the theater.
When asked about the comment by New York magazine, Baldwin responded:
I can tell you that, in all honesty, I don't think he's in a good position to be giving interpretations of what the theater is and what the theater isn't. I mean, he was never in the theater. He came into a rehearsal room for six or seven days and, uh — you know, sometimes film actors — I mean, there are people who are film actors who have a great legacy in the theater. Some of the greatest movie stars had really serious theater careers and still do. And many film actors, though, who are purely film actors, they're kind of like celebrity chefs, you know what I mean? You hand them the ingredients, and they whip it up, and they cook it, and they put it on a plate, and they want a round of applause. In the theater, we don't just cook the food and serve it. You go out in the garden and you plant the seeds and you grow it. You know, it's a really very, very long, slow, deliberate — it's the opposite of film acting. It's a much more intensive and kind of thoughtful process. And there are people who that's just not their thing. So for those people who I think it's not their thing, I'm not really interested in their opinion of it. But thanks.
Ultimately, Baldwin's comments reflect that in his opinion LaBeouf — who has no theater experience — couldn't hack it in rehearsals for Orphans, so the last thing he should be doing is talking about theater acting.  As I said above, I certainly can't blame Baldwin for speaking out about LaBeouf's comments based on that.  So… your move now, LaBeouf.