Shia LaBeouf, who has certainly made his mouth a familiar spot for his foot in the past, was set to make his Broadway debut opposite Alec Baldwin in Orphans, with previews set to begin March 17.  However, yesterday it was announced that LaBeouf had left the play because of "creative differences."  Naturally, inquiring minds want to know what exactly those differences were/are.
On Twitter LaBeouf has provided screenshots of private e-mails that indicate that he and Baldwin were not meshing well on stage.   In a rambling e-mail to Baldwin, playwright Lyle Kessler, actor Tom Sturridge, director Daniel Sullivan, and producers Fred Zollo and Robert Cole, LaBeouf wrote about how much of a "man" Baldwin is and then adds "Alec, Im sorry for my part of a dis-agreeable situation."
Sullivan replied, "I'm too old for disagreeable situations. you're one hell of a great actor. Alec is who he is. you are who you are. you two are incompatible. i should have known it. this one will haunt me. you tried to warn me. you said you were a different breed. i didn't get it."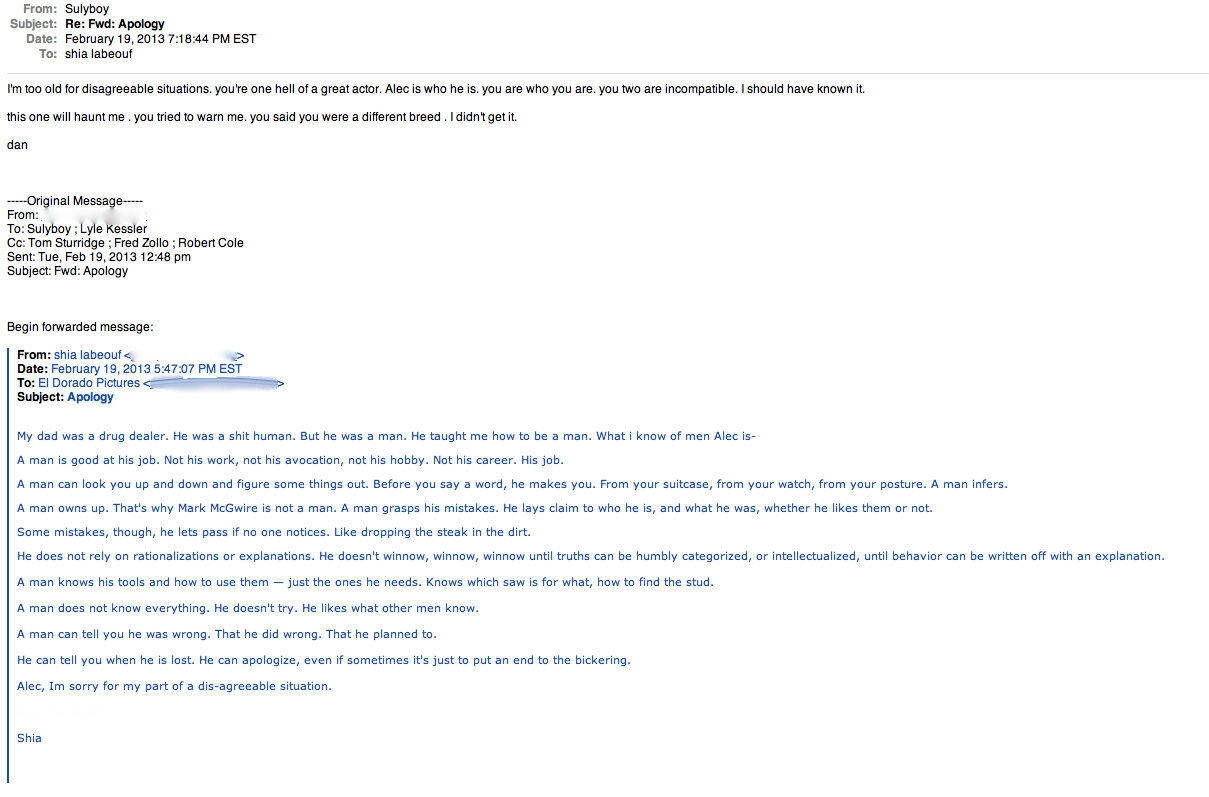 In a later message from Baldwin to LaBeouf, Baldwin wrote, "I've been through this before. It's been a while. And perhaps some of the particulars are different. But it comes down to the fact that what we all do now is critical. Perhaps especially for you. When the change comes, how do we handle it, whether it be good or bad? What do we learn? I don't have an unkind word to say about you. You have my word."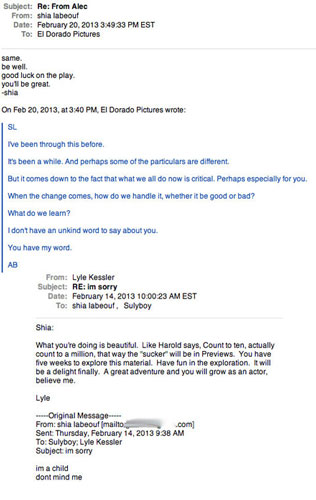 An e-mail from Sturridge to LaBeouf expressed dismay about LaBeouf leaving the show and said, "I think you lifted the play to a place higher than maybe it even deserved to be.  I hope this isn't the last time we work together and I especially hope it isn't the last time we see each other."
Curiously, this isn't the first time LaBeouf tweeted e-mails about the play.  On February 18, LaBeouf tweeted a photo of an e-mail from him on February 14 apologizing for putting his hand through a door during rehearsals and Kessler's reply saying "What you're doing is beautiful."  Perhaps the rest of the production didn't see the beauty in it?
So while there's clear evidence that there were "creative differences," it's interesting to see that the e-mails LaBeouf released generally reflect him in a positive light and don't go too in-depth on the particulars of him leaving the show.  While there's nothing wrong with LaBeouf defending himself, releasing e-mail exchanges in this fashion might not have been the best career decision in the long run.
[Lance here: Here is a video of what might be his audition for the show. It's a little over an hour long and seems fine to me, though I didn't watch the whole thing. Ok, I only watched like 2 minutes but you can judge for yourself.]