Hugh Jackman's 'Les Mis' Audition Mishap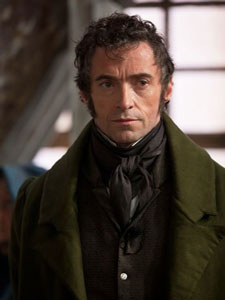 Even Oscar-nominated stars have audition mishaps.  Before auditioning for the film adaptation of Les Miserables in New York City, Hugh Jackman ran into some trouble while visiting his singing teacher, Joan Lader.
On the Tonight Show he explained, "When I do any singing audition, I go to my singing teacher first, so I went to Joan Lader, and I had a half-hour singing lesson just to get warmed up. And she said, 'You should ride your bike to get your breath going,' so I ride my bike to 16th Street and the audition is about 20 blocks down. And I remember pulling up in front of my singing teacher's building and I'm locking up the bike and you know when you just see someone a little dodgy, and they're looking at you and they know you know they're dodgy, and you're just looking? I'm doing the extra lock on my bike. I go into my singing lesson and I come back and the wheels have gone off my bike… I was like, 'No!'"
Of course, Jackman wasn't going to let a little thing like a bike with no wheels stop him from auditioning.  He adds, "Because you don't want to warm up and then be too cold for the audition, I left it with 15 minutes (to spare). So I come out, I've got the frame of my bike, I've got 20 blocks and 15 minutes to get there. I literally ran with my bike on my shoulder, can't put it in a cab, and I get to the thing (audition) and I run up the two flights of stairs and I'm like, 'Hugh Jackman… I'm ready.' I literally felt like I was straight out of drama school."
Who knows?  Perhaps Jackman's hurried, harried appearance at the audition helped him land the role of the disheveled Jean Valjean.  He actually might want to thank that "dodgy" character!
via The Express
Latest Videos
http://www.dailyactor.com/wp-content/uploads/2014/07/bill-hader.jpg
Bill Hader: "I kind of fell into acting" (video)
Bill Hader, starring in the soon to be released The Skeleton Twins, talks about the film and how he fell into acting and then got "crazy lucky" in this quick video from USA Today. Share on Tumblr
http://www.dailyactor.com/2014/07/bill-hader-fell-into-acting-video/
http://www.dailyactor.com/wp-content/uploads/2014/07/director-john-carney-narrates-a.jpg
Director John Carney Narrates a Scene from 'Begin Again' Starring Kiera Knightley and Mark Ruffalo
Director John Carney (Once) narrates a scene from his new film, Begin Again. Starring Keira Knightley and Mark Ruffalo, the scene shows the first time the two characters meet. I haven't seen it yet but I've heard it's great.
http://www.dailyactor.com/2014/07/begin-again-scene-director-john-carney-keira-knightley-mark-ruffalo/
http://www.dailyactor.com/wp-content/uploads/2014/07/holler-if-you-hear-me-gma.jpg
Watch the Cast of Broadway's 'Holler If You Hear Me' Perform 'California Love' on GMA
The cast of Broadway's newest musical, Holler If You Hear Me with music from Tupac Shakur, performed on Good Morning America this morning. Singing 'California Love', the cast (including the teriffic Christopher Jackson – read our interview here), show why they're the most energetic and inspiring group of actors on Broadway. Holler If Ya Hear [...]
http://www.dailyactor.com/2014/07/watch-cast-broadways-holler-hear-perform-california-love-gma/
http://www.dailyactor.com/wp-content/uploads/2014/07/behind-the-scenes-of-dawn-of-the.jpg
Behind the Scenes of 'Dawn of the Planet of the Apes' with Performance Capture Actor Terry Notary
Actor Terry Notary is 1 of 5 actors playing the apes in the new Dawn of the Planet of the Apes. "When you see armies of apes," he says, that's "five of us." Check out the video where you can watch his performance capture work.
http://www.dailyactor.com/2014/07/dawn-planet-apes-performance-capture-actor-terry-notary/
http://www.dailyactor.com/wp-content/uploads/2014/07/melissa-mccarthy-daily-show.jpg
Melissa McCarthy and John Stewart Talk About Terrible Commercial Auditions on 'The Daily Show'
Melissa McCarthy stopped by The Daily Show last week to plug about her new movie, Tammy. She talked about how she loved working with her husband, Ben Falcone (director of Tammy) and then segued into talking about some horrible working situations. The always hilarious McCarthy then started to tell host John Stewart about a particular [...]
http://www.dailyactor.com/2014/07/melissa-mccarthy-john-stewart-commercial-auditions-the-daily-show/