Hugh Jackman's 'Les Mis' Audition Mishap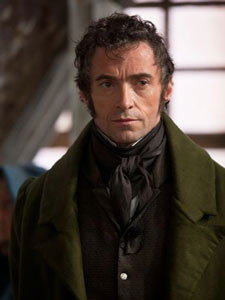 Even Oscar-nominated stars have audition mishaps.  Before auditioning for the film adaptation of Les Miserables in New York City, Hugh Jackman ran into some trouble while visiting his singing teacher, Joan Lader.
On the Tonight Show he explained, "When I do any singing audition, I go to my singing teacher first, so I went to Joan Lader, and I had a half-hour singing lesson just to get warmed up. And she said, 'You should ride your bike to get your breath going,' so I ride my bike to 16th Street and the audition is about 20 blocks down. And I remember pulling up in front of my singing teacher's building and I'm locking up the bike and you know when you just see someone a little dodgy, and they're looking at you and they know you know they're dodgy, and you're just looking? I'm doing the extra lock on my bike. I go into my singing lesson and I come back and the wheels have gone off my bike… I was like, 'No!'"
Of course, Jackman wasn't going to let a little thing like a bike with no wheels stop him from auditioning.  He adds, "Because you don't want to warm up and then be too cold for the audition, I left it with 15 minutes (to spare). So I come out, I've got the frame of my bike, I've got 20 blocks and 15 minutes to get there. I literally ran with my bike on my shoulder, can't put it in a cab, and I get to the thing (audition) and I run up the two flights of stairs and I'm like, 'Hugh Jackman… I'm ready.' I literally felt like I was straight out of drama school."
Who knows?  Perhaps Jackman's hurried, harried appearance at the audition helped him land the role of the disheveled Jean Valjean.  He actually might want to thank that "dodgy" character!
via The Express
http://www.dailyactor.com/wp-content/uploads/2016/02/alicia-Vikander-Ex-machina.jpg
Alicia Vikander on the Her First Trip to L.A. and the Acting Tip 'Ex-Machina' Director Alex Garland Gave Her
"You [get immersed in] a film and of course you think that that is it. And then you go away and you read a new script and you have a new crush" - Alicia Vikander
http://www.dailyactor.com/actors-on-acting/alicia-vikanderacting-tip-ex-machina-director-alex-garland-gave-her/
http://www.dailyactor.com/wp-content/uploads/2016/02/Channing-Tatum-Hail-Caesar.jpg
Channing Tatum Talks 'Hail, Caesar!': "I've been beating on the Coens' door for years, man"
"It's the most I've ever prepped for a six-minute section in a movie." - Channing Tatum
http://www.dailyactor.com/actors-on-acting/channing-tatum-hail-caesar-tap-dancing/
http://www.dailyactor.com/wp-content/uploads/2016/01/Isidora-Goreshter-Shameless-audition.jpg
Isidora Goreshter Remembers Her Audition for 'Shameless'
Goreshter recently recalled that her audition for the 'Shameless' was by far her worst ever.
http://www.dailyactor.com/actors-on-acting/isidora-goreshter-audition-for-shameless/
http://www.dailyactor.com/wp-content/uploads/2016/01/Sutton-Foster-Younger.jpg
Sutton Foster: "Sometimes I won't even find a character until I put on the costume"
"I never had grand aspirations to be a movie star, to be famous or to be on TV. The theater was what I wanted." - Sutton Foster
http://www.dailyactor.com/actors-on-acting/sutton-foster-younger-character-costume/
http://www.dailyactor.com/wp-content/uploads/2016/01/Paul-Giamatti-Billions.jpg
Paul Giamatti on Building His Career: "I was always willing to just go, 'OK, sure, I'll do that'"
"I've done everything an actor can do except porn and performing in an amusement park" - Paul Giamatti
http://www.dailyactor.com/actors-on-acting/paul-giamatti-billions-building-an-acting-career/