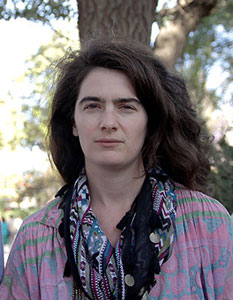 Gaby Hoffmann is another one of those child actors that could have become a certified mess, noting that she "started acting at 5 because we had no money, and my mom was like, 'Put her in a commercial!'"  But instead of following down a bad path a la Lindsay Lohan, Hoffmann decided to rededicate herself to acting.  Now, she's starring alongside Michael Cera in the new film, Crystal Fairy.
"I had great experiences!" Hoffmann said about her days acting in films like Now and Then and Volcano.  "But I didn't have a reason to be acting.  I never thought about it; I wasn't particularly interested in filmmaking.  And then I went to college to study other things, and I ended up realizing that I loved film, and I made a film, and thought, 'This is really interesting!'  It was this thing I'd been doing my whole life, but I had to sort of unpack my past and come at it in a new way.  Crystal Fairy was one of the first movies I made with that sort of newfound interest and focus in acting."
Hoffmann further explains her roundabout return to acting in an interview with Vulture.  "I had a very difficult time deciding to do it as an adult," she admitted.  "I didn't have reasons for acting as a kid—I didn't ask to do it, it just happened to me.  I liked it, but I just wanted to go to college and do other things.  And I spent ten years after college being very confused and very ambivalent about acting.  It was about two months before we made Crystal Fairy that I thought, 'Okay, it's time to face whether I want to keep doing this,' because I'd just been avoiding it."
It looks like Hoffmann has truly rediscovered her passion—she's appearing in three more films in 2013 alone, including Burma, Goodbye World, and Manhattan Romance.
Crystal Fairy is now playing in theaters.