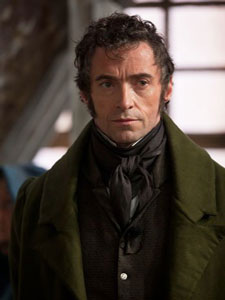 Even though Les Miserables is enjoying Oscar buzz, the road to making the film wasn't as glamorous.  All of the auditions were conducted in rundown studios.
The casting director for the film, Nina Gold, remembers, "You know, you've got Tap Dance 2 in one studio and Jujitsu 3 in the other studio, and Hugh Jackman and me and Tom [Hooper, the director] in the other one.  There's different dingy rooms all over the world, but they were all really, really repulsive."
The bright part of the process was when Jackman aced his audition.  Before hearing him sing, Gold admitted that she and Hooper were worried about finding someone to take on the celebrated role of Jean Valjean for the screen version of the musical.
"We know each other so well that we don't have any problem talking to each other very, very directly," Gold said in an interview with The New York Times.  "There was no one in the world who could do it—well, there is obviously Hugh Jackman, but he'd never sung in that register before."
After three hours of auditioning, it was clear the Aussie actor had landed the part.  "We had the pianist there, and he said, 'OK, let's just mess around with this,'" Gold said.  "And he opened his mouth and sang, and literally, you felt like you were going to be blown out the window.  It felt like my hair was on fire.  Until that moment, you just thought, 'Is it actually possible to do this?'"
Les Miserables is currently in theaters, and is up for Best Picture at the Oscars.