Dustin Hoffman Talks About the Difficulties of Auditioning as a Method Actor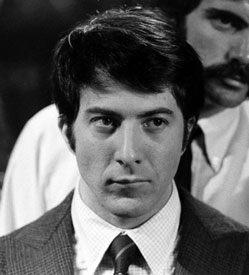 In an interview with NPR promoting his directorial debut Quartet, acting legend Dustin Hoffman talked about getting his start in acting.  Famously, Hoffman beat out other actors for his breakthrough role of Benjamin in The Graduate like Robert Redford, who far more resembled the character in the original novel.  He spoke about why method actors like himself struggled at auditions.
Hoffman points out some of the difficulties about auditioning — especially when he was younger because he didn't fit into any easy "type."  He explains, "If you're a singer or a dancer and you audition, you sing, or you, you know, you play the piano, or you perform in some way. But if you're an actor, you don't know what that character is. We study and had studied for years and years and years with these giants of acting in those days, Lee Strasberg, Sanford Meisner, Stella Adler. And there was a craft and an art to acting, and one of the conditions or the precepts were is that when you first start, you don't do anything. You let – see what happens. And the character takes time to build, just like in painting or in writing. And so at an audition, they want the performance. And my roommate Bob Duvall used to see this, you know who gets these parts? He says, the people that what-you-see-is-what-you-get. And, in other words, what they did in the audition, they wound up doing four weeks later when the play opened, because they – you know, the directors and the producers, they want to see the character. And that's a kind of a contradiction to what we do, you know, for a living."
As a result, Hoffman thinks many strong actors are unsuccessful at auditioning because they simply don't know what they're supposed to be doing.  He says, "Unfortunately, it's the derivative that usually gets hired. When you have an original feeling, it's usually because you yourself are a unique person, so your questions are your questions about the character."
Latest Videos
http://www.dailyactor.com/wp-content/uploads/2014/07/bill-hader.jpg
Bill Hader: "I kind of fell into acting" (video)
Bill Hader, starring in the soon to be released The Skeleton Twins, talks about the film and how he fell into acting and then got "crazy lucky" in this quick video from USA Today. Share on Tumblr
http://www.dailyactor.com/2014/07/bill-hader-fell-into-acting-video/
http://www.dailyactor.com/wp-content/uploads/2014/07/director-john-carney-narrates-a.jpg
Director John Carney Narrates a Scene from 'Begin Again' Starring Kiera Knightley and Mark Ruffalo
Director John Carney (Once) narrates a scene from his new film, Begin Again. Starring Keira Knightley and Mark Ruffalo, the scene shows the first time the two characters meet. I haven't seen it yet but I've heard it's great.
http://www.dailyactor.com/2014/07/begin-again-scene-director-john-carney-keira-knightley-mark-ruffalo/
http://www.dailyactor.com/wp-content/uploads/2014/07/holler-if-you-hear-me-gma.jpg
Watch the Cast of Broadway's 'Holler If You Hear Me' Perform 'California Love' on GMA
The cast of Broadway's newest musical, Holler If You Hear Me with music from Tupac Shakur, performed on Good Morning America this morning. Singing 'California Love', the cast (including the teriffic Christopher Jackson – read our interview here), show why they're the most energetic and inspiring group of actors on Broadway. Holler If Ya Hear [...]
http://www.dailyactor.com/2014/07/watch-cast-broadways-holler-hear-perform-california-love-gma/
http://www.dailyactor.com/wp-content/uploads/2014/07/behind-the-scenes-of-dawn-of-the.jpg
Behind the Scenes of 'Dawn of the Planet of the Apes' with Performance Capture Actor Terry Notary
Actor Terry Notary is 1 of 5 actors playing the apes in the new Dawn of the Planet of the Apes. "When you see armies of apes," he says, that's "five of us." Check out the video where you can watch his performance capture work.
http://www.dailyactor.com/2014/07/dawn-planet-apes-performance-capture-actor-terry-notary/
http://www.dailyactor.com/wp-content/uploads/2014/07/melissa-mccarthy-daily-show.jpg
Melissa McCarthy and John Stewart Talk About Terrible Commercial Auditions on 'The Daily Show'
Melissa McCarthy stopped by The Daily Show last week to plug about her new movie, Tammy. She talked about how she loved working with her husband, Ben Falcone (director of Tammy) and then segued into talking about some horrible working situations. The always hilarious McCarthy then started to tell host John Stewart about a particular [...]
http://www.dailyactor.com/2014/07/melissa-mccarthy-john-stewart-commercial-auditions-the-daily-show/