Dustin Hoffman Talks About the Difficulties of Auditioning as a Method Actor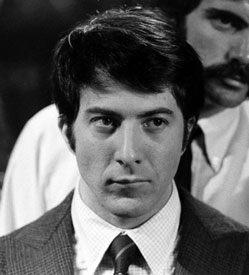 In an interview with NPR promoting his directorial debut Quartet, acting legend Dustin Hoffman talked about getting his start in acting.  Famously, Hoffman beat out other actors for his breakthrough role of Benjamin in The Graduate like Robert Redford, who far more resembled the character in the original novel.  He spoke about why method actors like himself struggled at auditions.
Hoffman points out some of the difficulties about auditioning — especially when he was younger because he didn't fit into any easy "type."  He explains, "If you're a singer or a dancer and you audition, you sing, or you, you know, you play the piano, or you perform in some way. But if you're an actor, you don't know what that character is. We study and had studied for years and years and years with these giants of acting in those days, Lee Strasberg, Sanford Meisner, Stella Adler. And there was a craft and an art to acting, and one of the conditions or the precepts were is that when you first start, you don't do anything. You let – see what happens. And the character takes time to build, just like in painting or in writing. And so at an audition, they want the performance. And my roommate Bob Duvall used to see this, you know who gets these parts? He says, the people that what-you-see-is-what-you-get. And, in other words, what they did in the audition, they wound up doing four weeks later when the play opened, because they – you know, the directors and the producers, they want to see the character. And that's a kind of a contradiction to what we do, you know, for a living."
As a result, Hoffman thinks many strong actors are unsuccessful at auditioning because they simply don't know what they're supposed to be doing.  He says, "Unfortunately, it's the derivative that usually gets hired. When you have an original feeling, it's usually because you yourself are a unique person, so your questions are your questions about the character."
http://www.dailyactor.com/wp-content/uploads/2015/01/watch-al-pacino-talks-the-humbli.jpg
Watch: Al Pacino Talks 'The Humbling' and His Extraordinary Career
In this conversation with Al Pacino talks about his role in The Humbling -- including working with Greta Gerwig -- and his historic acting career
http://www.dailyactor.com/2015/01/watch-al-pacino-extraordinary-career/
http://www.dailyactor.com/wp-content/uploads/2015/01/watch-oscar-nominee-steve-carell.jpg
Watch: Oscar Nominee Steve Carell Talks Improv, Auditioning for 'The Office' and 'Foxcatcher'
Carell talks about his entire career as an actor, including his background in improv, how he landed the Michael Scott role on The Office, and Foxcatcher
http://www.dailyactor.com/2015/01/oscar-nominee-steve-carell-improv-auditioning-for-the-office-foxcatcher/
http://www.dailyactor.com/wp-content/uploads/2015/01/ethan-hawke-ellar-coltrane-boyhood.jpg
Ethan Hawke Calls 'Boyhood' the "most special endeavor of my life"
Ethan Hawke is riding high with his fourth Oscar nomination for the Richard Linklater-directed Boyhood. In a recent "Ask Me Anything" on Reddit, the 44-year-old actor gave some thoughtful insight into his career and the 12-year creative endeavor that became the biggest film of the Oscar season. When asked what was the most difficult thing about […]
http://www.dailyactor.com/2015/01/ethan-hawke-boyhood-reddit-amaife/
http://www.dailyactor.com/wp-content/uploads/2015/01/martha-plimpton-a-delicate-balance.jpg
Martha Plimpton Takes a Refreshing Approach to a Long-Lasting Career
Martha Plimpton is an actress who enjoys the work, she's not in it for the fame. The proof is in her continually excellent work that she is doing on-screen and on the stage. She's currently starring in A Delicate Balance on Broadway. It's the audience who gives her the ultimate thrill. "I try to get […]
http://www.dailyactor.com/2015/01/martha-plimpton-long-lasting-career/
http://www.dailyactor.com/wp-content/uploads/2015/01/watch-michael-keaton-talks-candi.jpg
Watch: Michael Keaton Talks Candidly About His Career and His Approach to Acting in 'Birdman'
In this nearly 90 minute conversation, Michael Keaton is his usual affable self but is also remarkably candid about his career and his approach to acting.
http://www.dailyactor.com/2015/01/michael-keaton-career-approach-to-acting-birdman/