Dustin Hoffman Talks About the Difficulties of Auditioning as a Method Actor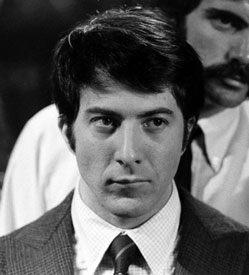 In an interview with NPR promoting his directorial debut Quartet, acting legend Dustin Hoffman talked about getting his start in acting.  Famously, Hoffman beat out other actors for his breakthrough role of Benjamin in The Graduate like Robert Redford, who far more resembled the character in the original novel.  He spoke about why method actors like himself struggled at auditions.
Hoffman points out some of the difficulties about auditioning — especially when he was younger because he didn't fit into any easy "type."  He explains, "If you're a singer or a dancer and you audition, you sing, or you, you know, you play the piano, or you perform in some way. But if you're an actor, you don't know what that character is. We study and had studied for years and years and years with these giants of acting in those days, Lee Strasberg, Sanford Meisner, Stella Adler. And there was a craft and an art to acting, and one of the conditions or the precepts were is that when you first start, you don't do anything. You let – see what happens. And the character takes time to build, just like in painting or in writing. And so at an audition, they want the performance. And my roommate Bob Duvall used to see this, you know who gets these parts? He says, the people that what-you-see-is-what-you-get. And, in other words, what they did in the audition, they wound up doing four weeks later when the play opened, because they – you know, the directors and the producers, they want to see the character. And that's a kind of a contradiction to what we do, you know, for a living."
As a result, Hoffman thinks many strong actors are unsuccessful at auditioning because they simply don't know what they're supposed to be doing.  He says, "Unfortunately, it's the derivative that usually gets hired. When you have an original feeling, it's usually because you yourself are a unique person, so your questions are your questions about the character."
Latest Videos
http://www.dailyactor.com/wp-content/uploads/2014/08/audition-tapes-gerard-butler-aud.jpg
Audition Tapes: Gerard Butler Auditions for 'Dracula 2000′
Check out Gerard Butler auditioning for the role of Dracula in the movie, Dracula 2000. The film, about a group of thieves who break into a chamber expecting to find paintings, but instead find Dracula himself, also starred Christopher Plummer, Jonny Lee Miller and Nathan Fillion. Bulter has some sweet rock star hair, huh?
http://www.dailyactor.com/2014/08/audition-tapes-gerard-butler-dracula-2000/
http://www.dailyactor.com/wp-content/uploads/2014/08/interview-matt-dillon-and-carla.jpg
Interview: Matt Dillon and Carla Gugino Talk 'Wayward Pines'
FOX has a new limited-series that's got a terrific cast and interesting premise. It's called Wayward Pines and stars Matt Dillon, Carla Gugino, Melissa Leo, Toby Jones, Terrance Howard, Juliette Lewis, Tim Griffin and Shannyn Sossamon. The show, whose pilot was directed by M. Night Shyamalan, is about a Secret Service agent (Dillon) goes to […]
http://www.dailyactor.com/2014/08/interview-matt-dillon-carla-gugino-wayward-pines-comic-con/
http://www.dailyactor.com/wp-content/uploads/2014/08/interview-wayward-pines-stars-ti.jpg
Interview: 'Wayward Pines' Stars Tim Griffin and Shannyn Sossamon on the Show, Their Characters and More!
Griffin and Sossamonwere at Comic-Con where they sat in on some roundtable interviews to talk about the show.
http://www.dailyactor.com/2014/08/interview-wayward-pines-stars-tim-griffin-shannyn-sossamon-comic-con/
http://www.dailyactor.com/wp-content/uploads/2014/08/interview-m-night-shyamalan-talk.jpg
Interview: M. Night Shyamalan Talks 'Wayward Pines' and Why He Expanded a Young Actors Role on the Show
I talked to Shyamalan at Comic-Con in a roundtable interview where he talked about the cast, what he learned from working in TV and how young actor Charlie Tahan started out with a small part but as the story grew, so did his role.
http://www.dailyactor.com/2014/08/interview-m-night-shyamalan-wayward-pines-comic-con/
http://www.dailyactor.com/wp-content/uploads/2014/08/interview-wayward-pines-producer.jpg
Interview: 'Wayward Pines' Producers and Writer Talk Casting and the 10-Episode Format
FOX's upcoming limited series Wayward Pines looks very cool. The show is supposed to be very Twin Peaks-ish in tone which, just hearing that, definitely sparks my interest. The pilot was directed by M. Night Shyamalan and stars Matt Dillon, Carla Gugino, Melissa Leo, Toby Jones, Terrance Howard and Juliette Lewis and is about a […]
http://www.dailyactor.com/2014/08/interview-wayward-pines-creators-comic-con/