This is the final excerpt of a three-part series from Stella Adler's first biography, Stella! Mother of Modern Acting (May 2014, Applause Theatre and Cinema Books).
Written by Sheana Ochoa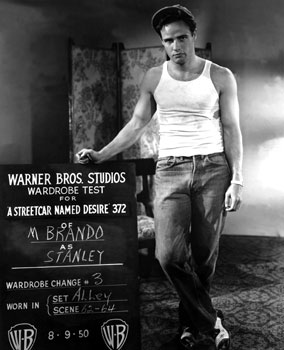 Although in the public's mind Marlon Brando was the quintessential "method actor," he did not study with Lee Strasberg. In 1943 at the age of 19, Brando went to New York and enrolled at the New School's Dramatic Workshop where he met the woman who would teach him acting craft, launch his career in the theater, and also give him a "syllabus for living." Stella took Brando under her wing and brought him into her circle of Jewish artists and intellectuals, exposing him to culture, painting and music. She also had a lovely sixteen-year-old daughter who Brando started dating. As you'll read in the following excerpt from Stella! Mother of Modern Acting, Stella had several reasons for keeping the youths apart. Ellen Adler and Brando would remain life-long friends. I was surprised while conducting interviews with Ellen that she and Marlon spoke on the phone every week up until his death in 2004.

Marlon Brando and the Adlers
Like Stella Adler, Brando loved to imitate people, no one more so than his teacher. The composer David Diamond was among the stream of guests that frequented Stella's apartment. Diamond remembered how Brando's "parrot routine," as they referred to it, went: "She's talking, and when Stella talks nobody else talks. So Marlon is imitating every gesture." After ten or fifteen minutes of ignoring Marlon's antics, Stella, dressed in her peignoir with nothing on underneath, crossed her legs, "which are rather full down around the calves but gorgeous, gorgeous thighs. The peignoir just simply opened and this leg was there. So what does Marlon do? He takes off his pants, and there he is in his boxer shorts crossing his leg over, showing his thigh."[i]
Upon Stella's recommendation, Brando agreed to audition for a part in what became his first Broadway show, I Remember Mama. The play's producers, Richard Rodgers and Oscar Hammerstein, were still riding the coattails of their highly successful Oklahoma!, and an unknown like Brando was lucky to be in such company. Rehearsals for Mama began just as Ellen [Stella's daughter] finished her liberal arts study at Bard College. She invariably found herself spending much of her time at the Music Box Theatre. Fran Heflin, also in the cast of Mama, remembered sometimes hiding Ellen in her dressing room whenever Stella came storming into the theater looking for the shvartze (literally, someone dark-skinned, and the term Stella used derisively for Ellen) to send home.[ii] "She wanted to break up the relationship," Heflin recalled. "It was the only time in my life I saw her strike a maternal pose, and remember I'd known Stella for years since Van, my brother, had been in the Group."[iii]
Many viewed Stella's reprisals as a form of jealousy. Physically, Ellen and Stella were opposites. Ellen's dark features contrasted with Stella's fair skin and light eyes. Brando's biographer described Ellen as "striking . . . a dark gypsy type with coal black hair, quick eyes, and a sense and presence that many found disturbingly precocious."[iv] Robert Ellenstein, one of Ellen's suitors at the time, remarked how Stella would dress Ellen down in little girls' dresses—implying that Stella wanted the dark, classically beautiful Ellen to remain subordinate to her.
According to one account, during the production of Mama a cast member walked into Brando's dressing room and saw Stella and Brando on the floor, the latter naked. Rumors about Brando and Stella abounded, which were fueled by the fact that Stella did not go to any lengths to hide her sexual exploits even though she was now married to Harold [Cluman]. Another boyfriend of Ellen's from Bard remembered that he and Ellen often went out with Stella and one of her male friends—usually "an older guy with a lot of money who would take us out for delicious dinners."[v]
I Remember Mama opened on October 19, 1944, and put Brando on the map as a new force in the theater. Stella became concerned about how much Ellen and Brando were seeing of one another. One day she called Brando to the Plaza. Her agitation increasing as the conversation came to a head, she finally bellowed: "You are not to see Ellen anymore until you marry her!"[vi] Several waiters dropped their trays. The piercing demand startled them not merely because of its volume, but because it carried the tone of a royal decree. Barely in his twenties with an unremitting sexual appetite, Brando would have found the idea of marriage unnerving—as Stella knew. As for the rumors about Stella herself, Brando excised them when he wrote in his autobiography: "We had a lot of flirtatious exchanges, and I suppose that somewhere not far beyond the horizon there was the possibility of a real encounter, but it never materialized."[vii]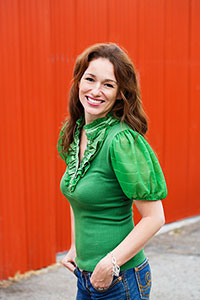 Sheana Ochoa received a Masters in Professional Writing at the University of Southern California. She has published widely in such outlets as Salon, CNN.com and the Los Angeles Review of Book's affiliate, The Levantine Review.Ms. Ochoa inaugurated the One-Act Play festival at the Stella Adler Academy where she directed her one-act play, The Masterpiece. In 2012, she became a founding member of Freedom Theater West, co-producing their premier production. Her revival of "Haorld & Stella: Love Letters" won Pick of Fringe at the 2014 Hollywood Fringe Festival. Stella! Mother of Modern Acting is Ochoa's first book. Follow Sheana on twitter!
[i] Manso, Brando, 112.
[ii] Ibid., 153.
[iii] Ibid.
[iv] Ibid., 151.
[v] Ibid., 152.
[vi] Elaine Stritch, in discussion with the author, November 8, 2004.
[vii] Marlon Brando, Songs My Mother Taught Me, with Robert Lindsey (New York: Random House, 1994), 99.