Dustin Hoffman Talks About the Difficulties of Auditioning as a Method Actor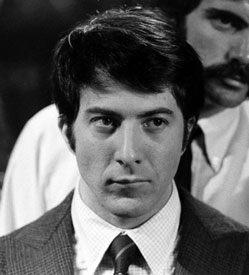 In an interview with NPR promoting his directorial debut Quartet, acting legend Dustin Hoffman talked about getting his start in acting.  Famously, Hoffman beat out other actors for his breakthrough role of Benjamin in The Graduate like Robert Redford, who far more resembled the character in the original novel.  He spoke about why method actors like himself struggled at auditions.
Hoffman points out some of the difficulties about auditioning — especially when he was younger because he didn't fit into any easy "type."  He explains, "If you're a singer or a dancer and you audition, you sing, or you, you know, you play the piano, or you perform in some way. But if you're an actor, you don't know what that character is. We study and had studied for years and years and years with these giants of acting in those days, Lee Strasberg, Sanford Meisner, Stella Adler. And there was a craft and an art to acting, and one of the conditions or the precepts were is that when you first start, you don't do anything. You let – see what happens. And the character takes time to build, just like in painting or in writing. And so at an audition, they want the performance. And my roommate Bob Duvall used to see this, you know who gets these parts? He says, the people that what-you-see-is-what-you-get. And, in other words, what they did in the audition, they wound up doing four weeks later when the play opened, because they – you know, the directors and the producers, they want to see the character. And that's a kind of a contradiction to what we do, you know, for a living."
As a result, Hoffman thinks many strong actors are unsuccessful at auditioning because they simply don't know what they're supposed to be doing.  He says, "Unfortunately, it's the derivative that usually gets hired. When you have an original feeling, it's usually because you yourself are a unique person, so your questions are your questions about the character."
http://www.dailyactor.com/wp-content/uploads/2016/04/jake-gyllenhaal-demolition.jpg
Jake Gyllenhaal on 'Demolition', Working with Chris Cooper and Directors Who Want Nothing to Do With Him
"I think storytelling is the most important part of movie-making over performance." - Jake Gyllenhaal
http://www.dailyactor.com/actors-on-acting/jake-gyllenhaal-demolition-chris-cooper/
http://www.dailyactor.com/wp-content/uploads/2016/04/don-cheadle-miles-davis.jpg
Don Cheadle: "Be scared. Be on the edge of your creativity"
"Be willing to fall flat on your face and be in an unknown place. If you're doing that, you're probably growing" - Don Cheadle
http://www.dailyactor.com/actors-on-acting/don-cheadle-scared-creativity/
http://www.dailyactor.com/wp-content/uploads/2016/04/jessie-eisenberg-louder-than-bombs.jpg
What is Jesse Eisenberg's "Most Fulfilling Acting Experience"?
"My absolute favorite thing to do is to write a play and then, after I finish, do the first reading of it with my friends around the table"- Jesse Eisenberg
http://www.dailyactor.com/actors-on-acting/jesse-eisenberg-most-fulfilling-acting-experience/
http://www.dailyactor.com/wp-content/uploads/2016/03/Lupita-Nyong'o-eclipsed.jpg
Lupita Nyong'o on Her Broadway Debut: "When we get up on that stage, you do not know what will happen"
"I think theater offers a chance to flex muscles that then only help to sustain cinematic work." - Lupita Nyong'o
http://www.dailyactor.com/actors-on-acting/lupita-nyongo-eclipsed-broadway/
http://www.dailyactor.com/wp-content/uploads/2016/03/jake-gyllenhaal-demolition.jpg
Jake Gyllenhaal on Missed Superhero Opportunities and Portraying "Antisocial" Characters
"I've always wanted to have the opportunity to play a number of different roles, and I knew it wasn't necessarily the role, but how you played them" - Jake Gyllenhaal
http://www.dailyactor.com/actors-on-acting/jake-gyllenhaal-antisocial-characters/