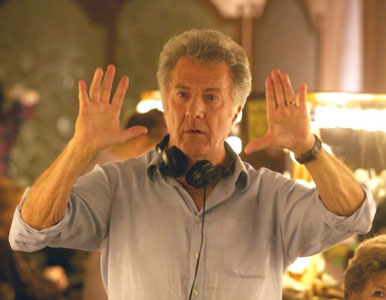 Dustin Hoffman began his first directing project back in 1978 on the film Straight Time—before he fired himself for lack of confidence.
The two-time Oscar winner got back behind the camera for, Quartet, after admitting he'd run out of excuses to why he couldn't direct.
"I said the reason was they didn't have playback," he said in an interview with The Los Angeles Times.  "That was my excuse, but it didn't stop others from doing it.  Yet, it traumatized me enough that I directed plays but I didn't direct a movie for years and years."
Hoffman decided to take on the project after falling in love with the script by Ron Harwood.  He's hoping that audiences will adore the story as much as he did.  "I just want the audience to give it flight," the 78-year-old said.  "Because the reaction has been so extraordinary it would be extremely disappointing if somehow it didn't translate into people going to see the movie."
"Maybe we should have had somebody shoot somebody or included a nude scene or something," Hoffman joked.
Because Hoffman has so much experience as an actor (with a career that began in the '60s), he wanted to make his actors more involved in the directing process.
"I always think actors are not unlike the Victorian women who were told by their husbands to stay home, raise the children, do the dishes and I'll make you look pretty.  I'll bring you jewelry but don't get involved in the decisions.  Know your place," Hoffman noted.  "I've never understood why they don't want to show an actor playback.  It's a collaborative thing.  It's not an officer and a private."
So with his latest foray into directing, Hoffman is showing the industry that he's ready to take on new challenges, while still appreciating what led up to this point in his career.  "What's unreal is that I've been able to do what I love for such a long period of time," he said.  "I know that I'm part of the 0.0001%–unless you're funny looking to begin with.  Then you've got a better shot.  Physically, you have nowhere to go but up."
Quartet comes out Friday, January 11, in limited release.