Movie Review: 'Solomon Kane'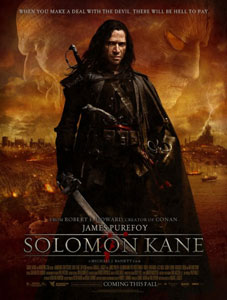 I'm a sucker for a sword & sorcerers movie. Good or bad, I've probably watched them all. If you're a fan of the genre like I am, you can add Solomon Kane to your watch list.
While it's no classic, it is fun – if your idea of fun is be-headings, guttings and monsters that burst out of mirrors and grabbing the closest person for a grizzly death. And yeah, that is my idea of a good Saturday night.
The film stars James Purefoy as Solomon Kane. When we first meet him, he's one mean, evil piece of work. He shows no mercy to his foes and with a smile on his face, you know he loves what he's doing. But, towards the end of the opening battle, he comes face-to-face with one of the Devil's (is Devil capitalized?) soldiers who nearly helps Kane parts ways with his head. It seems that Kane is so evil that the Devil wants him in his kingdom. Well, having the Devil want you will put a thought into your head, even the most evil of 'em, and Kane escapes.
A year later, he's now living with a group of Priests and he's a changed man, having renounced his past. Forced by the Priests to leave and find his true destiny, Kane finds himself with a peaceful family… and ultimately avenging them.
Kane was filmed way back in 2009. I remember the studio showing a preview at Comic-Con in 2010 and it got a pretty good response from the crowd. After that, I never heard about it again. I'm not sure what the delay was because the film certainly isn't the mess that you'd think it'd be for sitting on the shelf for so long. The only thing that hurt it for me was watching Pete Postlethwaite, who died last year, in action. He's great in the film, as expected, but watching him alive and vibrant just bummed me out.
There are a few cliched moments and the scene where Kane is forced back into his evil ways is a bit hokey, if you are looking for a good medieval tale, you can't go wrong with this.
Latest Videos
http://www.dailyactor.com/wp-content/uploads/2014/07/bill-hader.jpg
Bill Hader: "I kind of fell into acting" (video)
Bill Hader, starring in the soon to be released The Skeleton Twins, talks about the film and how he fell into acting and then got "crazy lucky" in this quick video from USA Today. Share on Tumblr
http://www.dailyactor.com/2014/07/bill-hader-fell-into-acting-video/
http://www.dailyactor.com/wp-content/uploads/2014/07/director-john-carney-narrates-a.jpg
Director John Carney Narrates a Scene from 'Begin Again' Starring Kiera Knightley and Mark Ruffalo
Director John Carney (Once) narrates a scene from his new film, Begin Again. Starring Keira Knightley and Mark Ruffalo, the scene shows the first time the two characters meet. I haven't seen it yet but I've heard it's great.
http://www.dailyactor.com/2014/07/begin-again-scene-director-john-carney-keira-knightley-mark-ruffalo/
http://www.dailyactor.com/wp-content/uploads/2014/07/holler-if-you-hear-me-gma.jpg
Watch the Cast of Broadway's 'Holler If You Hear Me' Perform 'California Love' on GMA
The cast of Broadway's newest musical, Holler If You Hear Me with music from Tupac Shakur, performed on Good Morning America this morning. Singing 'California Love', the cast (including the teriffic Christopher Jackson – read our interview here), show why they're the most energetic and inspiring group of actors on Broadway. Holler If Ya Hear [...]
http://www.dailyactor.com/2014/07/watch-cast-broadways-holler-hear-perform-california-love-gma/
http://www.dailyactor.com/wp-content/uploads/2014/07/behind-the-scenes-of-dawn-of-the.jpg
Behind the Scenes of 'Dawn of the Planet of the Apes' with Performance Capture Actor Terry Notary
Actor Terry Notary is 1 of 5 actors playing the apes in the new Dawn of the Planet of the Apes. "When you see armies of apes," he says, that's "five of us." Check out the video where you can watch his performance capture work.
http://www.dailyactor.com/2014/07/dawn-planet-apes-performance-capture-actor-terry-notary/
http://www.dailyactor.com/wp-content/uploads/2014/07/melissa-mccarthy-daily-show.jpg
Melissa McCarthy and John Stewart Talk About Terrible Commercial Auditions on 'The Daily Show'
Melissa McCarthy stopped by The Daily Show last week to plug about her new movie, Tammy. She talked about how she loved working with her husband, Ben Falcone (director of Tammy) and then segued into talking about some horrible working situations. The always hilarious McCarthy then started to tell host John Stewart about a particular [...]
http://www.dailyactor.com/2014/07/melissa-mccarthy-john-stewart-commercial-auditions-the-daily-show/